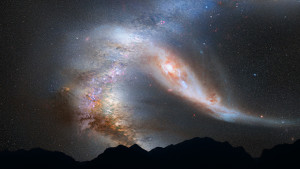 So last week, Asahi bought Mountain Goat. And earlier this month Heineken bought half of Lagunitas, then the company which makes Budweiser acquired something called Golden Road, and just under three years prior to that Emerson's was subsumed within Lion.1 Meanwhile: Russia re-annexed Crimea, Pixar has so far spent a decade in the belly of Disney, India smack-merged with the Eurasian Plate fifty-million-or-so years back and (geologically speaking) threw up the Himalayas, and in four billion years our galaxy will non-violently combine with Andromeda and send countless millions of worlds swirling into new orbits until something else supermassive comes along ― plus ça change plus c'est la même chose.
The details, ultimately, don't hugely concern me.2 It's all very much business as usual and the same old ebb and flow that's been going on for yonks. It'd be PhD-level economics to figure out if it's 'ultimately' been good or bad for consumer choice, and I suspect the answer is somewhere in the vicinity of "a little of both, from place to place and time to time, and basically a wash in the end". As for the latest pair of newsworthy sellers and buyers, I have fond memories of Mountain Goat (but no real ongoing adoration) and Asahi are just another conglom (but aren't on my boycott list since their machinations don't seem anything beyond par for the course)3 ― so my reaction was a combination of a quiet huh, an eyebrow-raise, and a lazy shrug.4
For now, I just want to note that you don't have to "wait and see" with these things. It is perfectly okay to decide that you'll never again buy a Mountain Goat beer, just as it was totally legitimate for Hashigo Zake to stop buying Emerson's as soon as the sale contract was signed. They were wrongly criticised for a "knee-jerk reaction" and encountered a strange kind of meta-snobbery that accused them of being pretentious when they were just pretty-obviously following a long-stated principle of only stocking "independent" beer, which Emerson's suddenly wasn't. If you care about ownership, you can make your decision on the day you learn about a change in ownership ― indeed, it'd be weird if you didn't. People blindly predicting that the beer will be ruined are exactly as wrong as people dogmatically insisting that it's (only) the flavour in the glass that counts. Ownership and scale don't logically or historically correlate with quality and any number of buyouts have seen it improve5 ― but other things are relevant, if you want them to be.6 I'm not personally an absolutist on this, but you can have your own priorities. The pile of possible factors-to-consider is vast and includes regional origin, aesthetics, price, the people involved, the tenor of their marketing, and of course ownership and taste. Do with them (all!) what you will.
And yes, making buying decisions based on corporate ownership will always be fraught with tensions if not outright contradictions ― as Rob Ruminski succinctly pointed out ― but that's just the way of it. Moral purity is probably impossible in the messy world of modern capitalism, but you set your own threshold and tolerance and you do your best.7 The hard part, most of the time, is actually learning the facts about these matters given how hard many companies work to obfuscate their origins. Here, there's an announcement and everything. So it's fine to react to that, as-is.
---