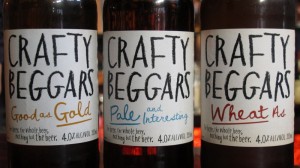 It is, apparently, Brandwank Monsoon Season. At least I won't suffer for material.1 As was spotted by the eagle eye of Dominic (from Hashigo Zake) some months ago in the Trademark Registry, "Crafty Beggars" is a new brand / imprint / stealth-fake-brewery2 from one half of the local duopoly, Lion. And these days, if you're talking about them, you're probably talking about Emerson's,3 not this shit. I haven't had my say about that bit of news, yet, it's honestly been too vexing; I'm firmly in the middle on the issue, finding much of the positive and negative feedback to be Missing The Point. But more about that another time, inevitably. Suffice to say — for now — that if you, my dear hypothetical reader, still harboured hopes that Lion's acquisition of Emerson's was a sincere and honest investment in craft beer, this should give you pause.
"Someone should make a craft beer you can actually drink", the bottle's text declares as the raison d'être of this new range. Nine un-named brewers, going "rogue" from a parent company which also goes un-named, apparently felt that way and set out to make these "crafty, but not too crafty" beers. It's an act of staggering dickishness and pointless absurdity, a petty swipe at a corner of the industry that Lion a) pretend to also occupy, already, and b) just acquired two large chunks of. The necessary implication is that Mac's, Little Creatures and Emerson's are either "not craft" or "not drinkable". I phoned Lion, to ask which of those two options was now their official stance, and was handed around a little bit but eventually put in touch with their "Brand Manager, Craft" — though I still haven't been given an answer… If you were a new operation, that tagline would token near-pathological arrogance, but here it's weirdly worse.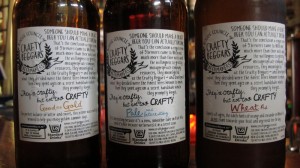 Brandwank is one thing — a vile and detestable thing — but this kind of internally-incoherent brandwank is more annoying by an order of magnitude. How the fuck does no one in the company feel sufficient shame, when one business unit contradicts another, to pull the plug on a campaign like this? As I mentioned when deconstructing some nonsense from the other giant ultra-conglom in the local market, D.B., my favourite example was when Jim Beam was marketed with the slogan "If it ain't Beam, it ain't bourbon" and Maker's Mark was touted by the same company as "the World's finest bourbon".4 It just seems so pathetic a trick, such a lazy failure of imagination, and it says nothing good about what they must think of their customers; that kind of half-assed deception seems to require believing them to be stupid or (against all evidence) completely disinterested in where things actually come from.
Last time I had some unkind things to say about a mega-brewery's fake "little guy" offerings, I drew some criticism for not trying the beer first. Which baffled the hell out of me, since I was explicitly commenting on the marketing. Which is, you know, a separately-existing thing. But in the investigative spirit — which is very close, it turns out, to the morbid curiosity that causes humans to rubberneck on traffic accidents — I grabbed one of each, and I've had them here at home tonight.5 And they're meh — which is me being as unjustifiably generous as it is me being abnormally monosyllabic.
(Meanwhile — in the later spirit of "fuck it, I should empty the Naughty Corner of my fridge while I'm at this" — while I'm writing, I'm polishing off my remaining bottles of those "Resident" beers from Boundary Road / Independent. And I haven't changed my mind. They are, just as they were, technically competent — vastly moreso than most of the "Boundary" beers — and a recognisable echo of something that might've been a good idea before the cost-compromises involved in up-scaling a pilot batch bit hard, and before the beers were filtered to within an inch of their lives and probably robbed of much character. But they sure aren't good, they sure aren't special, and they sure as fuck weren't worth the fuss, the wank and the insults to the local industry that they brought with them.)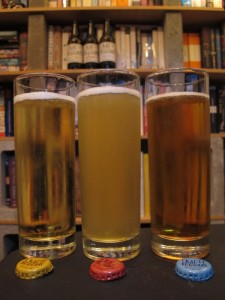 Skepticism is just mandatory when three styles of beer appear in a range at precisely the same ABV, especially when that's an usually-low number. All three "Crafty" beers are 4.0%, which should — given the vagaries of local excise tax rules — raise the suspicion that they're aiming at a price point, rather than a flavour. I love sessionable beer with an inappropriate passion, but I do ask that the lower strength exist for reasons more to do with the brewer's designs and the drinker's plans for their evening, rather than it being dictated by a formula in some arcane spreadsheet. And so, speaking (as I parenthetically was) of the "Resident" beers, these seem to be targeting those, given that Boundary Road placed theirs at a looks-like-a-loss-leader price and proceeded to carve themselves out a sizable chunk of the sales statistics. It looks like Lion have conjured something to claw that back, perhaps after seeing sales of their Mac's range take a hit. But then why make a drive-by implication that their other "craft" offerings are "undrinkable"? Who the fuck knows? (Also — as an addendum to the "Meanwhile", above — I'm changing my mind. For their relative lack of flavour and character, these "Resident" beers are camped out on the border of being intolerably bitter.)
The "Crafty" pilsner, 'Good as Gold', was worryingly pale and anemic-looking; close to that Budweiser-esque piss-yellow you'd only call "straw gold" if you were being paid wodges of cash to do so. It put me in mind of my 'Chosen One' tasting session — but, mercifully, of the non-candidate dummy options like NZ Pure. And if that memory comes as a relief, we're in dark times indeed. It didn't stink of faults, sure — none of these beers did — but it just had a limp tinned-apple-flavoured-baby-food nose that definitely wasn't appealing and sure as hell didn't convey "pilsner". 'Wheat As' was reassuringly hazy, given how often macro brewers wimp out and apply their ultra-fine nano-scale filters to seemingly everything, and did present some appropriate spice-and-citrus-peel notes. But Belgian-derived witbier-ish stuff hasn't ever been my thing, so I don't feel entirely qualified to rule it in or out. Given the two-and-some-bucks-a-bottle price point these seem to be landing at, it's at least possible that this one represents a bargain — a deal with the inveterate shitbags in the Devil's marketing division, perhaps, but all the same a bargain. And then the disappointingly un-punny / seemingly un-referential 'Pale and Interesting'6 commits a devastating act of metaphor shear by pouring like Speight's and making you realise that these are Speight's 330ml bottles.7 It's billed as a "smoother take" on a pale ale, which is always a worrying thing to hear from a mega-brewery, and presents as so watered- and dumbed-down that it — just like its inexcusably-bland cousin from the duopoly's other half, Monteith's IPA8 — smells like an empty glass that used to have beer in it, rather than a vessel which currently does. The "tinned fruit" aspect of the nose from the pilsner returned, only this time it was reminiscent of peaches — and even then only if they'd been unceremoniously disposed-of into a cardboard box.
In summary, these aren't good. They aren't fuck-awful, hurl-them-at-your-enemies bad, either — but that's hardly worth praising, is it? Given the pitch, this horrible "craft but drinkable" bullshit they're swaddled in, they're an abject failure. They are neither recognisably craft, nor particularly drinkable. Basically every single member of the already-extant Mac's range — with the possible exception of the new Shady Pale Ale, about which I hear plenty of terrible things — is head-and-shoulders better than these, and well worth the extra dollar.
But wait, what? Back to the pilsner, "Good as Gold". That's the name of a beer from the Coromandel Brewing Company, isn't it? Here we go again, it seems, with the brandwank-engines of the Big Two churning in the absence of a connection to the Almighty Google. I called the design agency responsible for the "Crafty Beggars" work,9 and their Director told me that the beer names were their creation — but Lion obviously have final sign-off on these things, and someone should've known / should've checked / should've given five seconds' thought to the possibility that someone might've found the same reference fitting. But no, here's one of the Big Boys, charging around making bullshit claims left and right with no consideration of how it affects a) their other products, or b) anyone else's.
This is why I can't be optimistic about something like Lion's acquisition of Emerson's. These huge, sprawling, many-branded companies — like D.B., Lion and Independent — are shot-through with the wrong thinking, the wrong incentives, too many bad-habit-ed Suits, perverse internal competition, and are the kind of hydra-headed monsters with which it constantly proves impossible to reason. They, at the meta / corporate level, are the "rogues" in this business, and not in the lovable-and-rakish sense; these are proper loose cannons, capable of any damn wreckage, accidental or otherwise.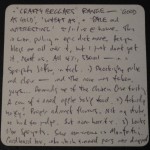 Verbatim: Crafty Beggars Range — 'Good as Gold', 'Wheat As', + 'Pale and Interesting' 20/11/12 @ home. This is Lion, pulling an epic dick move. Design blogs are all over it, but I just don't get it. Naff as. All 4%, 330ml — in a Speight's bottle, in fact. 1) Shockingly pale and clear — and the name was taken, guys… Reminds me of the Chosen One tasting. A can of tinned apple baby food. 2) Actually hazy! Proper adjunct flavours. Not my style, so hard to judge. 3) Looks like Speight's. Same non-aroma as Monteith's. Cardboard box, into which tinned pears were dumped.
---
1: Not that I ever do, of course, grotesquely-far behind in my notes as I am. But after we're done here, we're going to have to have words with the newly-appeared "Hancock & Co." brand. Sheesh.
2: They're not proud enough to say "a new beer from Lion" or "brewed by Lion", but also not subtle enough to give the brand its own street address or 0800 number. That middle ground makes no sense.
3: Note for aliens / cave-dwellers / normal people: Lion recently purchased local craft beer legends Emerson's. The jury is well-and-truly out on whether or not this is a Good Thing.
4: Funnily enough, they also didn't get back to me when I contacted the parent company and asked them to pick which (if either) was true.
5: As often happens, I'm behind in the Diary in the additional sense of having lots of scraps of paper lying around with notes as-yet-untranscribed into the actual physical book itself. Tonight's notes were therefore written up, as is common, on the back of a coaster (and photographed for 'proof', rather than scanned). Now I almost feel I owe the boys from ParrotDog an apology for soiling their merchandise so.
6: 'Pale to the Chief'? 'Pale and Hearty'? Surely there was scope for something. It's just a bit of a drop off a  thematic cliff after the other two.
7: Maybe they have a whole bunch spare now they've started selling Speight's in "Imperial Pint" bottles, which are inadvisably labelled as such. Local laws which prohibit the use of non-metric measurements might be obsolete and stupid — and indeed they are — but they are still on the books.
8: Just look at the blurb on the tap badge. That should win an award for unjustified overstatement.
9: A very early Alarm Stage on the Brandwank Detector is triggered if, as here, a Google search for a new beer / brewery / brand returns oodles of write-ups of the design work before you can find anyone talking about the actual product. And I know this is largely a matter of unimpeachable aesthetics, but I just don't see what the praise is about. This design is hugely boring. It's the spending-money-to-look-poor nonsense of a thousand intolerable Trustafarian fuckheads. Yawn. The same agency's work on Steinlager Purea is, I'd say, vastly superior in every way.
— a: Though that product's pitch also falls foul of this same "Crafty Beggars" problem, in that it implies worrying things about the other products from the company, just like Monteith's Single Source did.