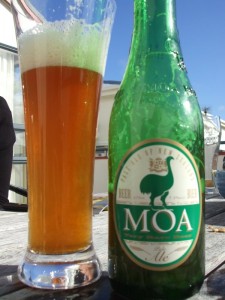 Hearken to a saga of two beers. Two incarnations of one beer — a Draft and Final, or a Beta and a One Point Oh, perhaps — neither of which I particularly enjoyed, one of which I sufficiently non-enjoyed that it became my first Beer Diary beer in years to have its glass tipped out rather than emptied in the usual imbibey way.
Moa's Pale Ale was a pretty highly-anticipated thing, and I was dead keen to try it. I have a strange relationship with the Moa beers, finding some of them unforgivably naff, which is tempered by some of them being wonderfully interesting — though I see all of them as nobbishly marketed and over-priced. Of this one, I'd heard good things, and so picked one up to enjoy on a sunny afternoon.
My first alarm bells rang at the… sludge layered on the bottom. Given the choice, I prefer my beers bottle-conditioned, ordinarily. But this was ridiculous1 — and was common among all the bottles at the store, and confirmed by the local rep. as nothing out of the ordinary, though he pretty-quickly assured me that they'd already seen it as a bad idea and planned to tone things down for the next batch.
After a difficult pour, the beer settled down enough to present itself with a lovely colour, which I took as a sign that things might be okay after all, but it wound up being the highest praise I could give, review-wise, to the people sitting with me. The nose was all but absent, which is a fairly unforgivable sin for what should be a gorgeously aromatic style — and the one over-riding detectable note was that weirdly-distinctive 'Moa Funk' which usually stops me enjoying their milder beers like the 'Original' and 'Blanc'.
And after struggling past the marketing, the sludge, the pour, and the nose, I was 'rewarded' with a bog-standard pale ale, at best. Pale ales are the fashionable thing at the moment, so when you're this late to the game, you had better bring something special, or at least something interesting. This is doubly-so when you're from the same town, pitched at the same booze, and charging the same (for a smaller bottle) as 8 Wired's absurdly-fantastic 'Hopwired' — nevermind the half-dozen other easily-named examples of the style which also blow this thing out of the water without charging you an arm or a leg, and without shrouding themselves in dickish brandwank. It was that sense of rip-off and disappointment that stuck with me most, through the glass — and it got enough that I just pushed the eject button and biffed the remainder off the side of the deck, unfinished.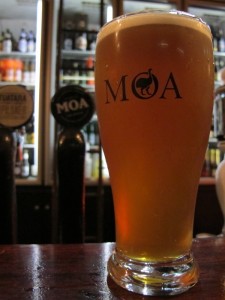 I do know a lot of people who liked the beer, though, so I was hoping that my bottle was an errant failure — though its only distinctive feature was that centimeter of slurry, which was shared by all the others I'd seen, so I suspect I'm being oddly generous in that hope. I did resolve to try the promised reformulated version, though, and finally got a chance nearly two months later.
Calmed down a few percentage points in strength, and with the sediment in the bottled version toned down to typical / tolerable / non-insane levels, I was pleased to see that the lovely colour had been retained, and the 'funk' had vanished from aroma. Sadly, though, so had basically everything else; the beer had courageously leapt from being bad to being bland, which is a rather classic Frying Pan Versus Fire scenario. It seemed faultless, and was fairly tasty, but thereby also seemed completely pointless; merely an act of late-to-the-game Me Too Please. It was safe and cautious and inoffensive — and thereby tokened a sad return to form for the brewery, in my mind. After their brilliantly interesting and genuinely brave 'Barrel Reserve' series, this feels too much like a throwback to the days of their first three releases: I can just never shake the feeling that 'Original', 'Blanc' and 'Noir' were all designed to appeal (and to extract dollars from) people who want to buy themselves a bit of craft / boutique / obscure beer credibility, but who fundamentally don't want to actually stray very far from their familiar green-bottle supermarket standbys. Unless you're drawn to the brandwank like some sort of suit-wearing moth to their 'super premium' flame, you could get yourself any of a number of delicious pale ales at all levels of the flavour spectrum, and you'd keep a few extra dollars in your pocket — just as the same had always been true with their lager, wheat beer, and dark lager.
When the Moa beers are 'on', they are on. But when they're naff, they are so tragically naff. And have the gall to levy you with a naffness premium while they're at it.
Verbatim: Moa Pale Ale 8/1/11 @ Home $8ish? from Regional 7.2% 375ml. Chunkiest sediment ever. Bottle conditioning is one thing, shipping metric tonnes of sludge with your beer is another. I hope I got an errant bottle, because then it fountained, and I actually resorted to using a sieve. I do like the colour, but the aroma is barely anything other than that worrying Moa funk you get in the others. The flavour is okay, but merely okay. Nice pale ale, but you need more whizbang if you're this late to the game, and implicitly trailing 8 Wired. It's like almost all the hops went in way too early. Consensus is that it is simply fail. Good thing I carry that pen. We can see where they're going, but they don't make it. Unfinished.
Moa Pale Ale; Revised, Revisited 1/3/11 5.2% now, on tap @ MH. Halfway to their revised branding. I promised I'd retry this, so here I am, though they've modified it since batch #1, reducing strength, basically eliminating sludge. Weird that they'd change their mind so much so soon. I'm all for people copping to + correcting mistakes, but making one that huge is worrying in its own way. No nose, this time. Glad there's no funk, but wish there was aroma. Very mild flavour, too. Makes me worry it's a returned to First Three form; expensive, cleverly marketed and bland enough not to offend. Safe, cautious. There's nothing wrong with it, at all, but the price would get you better beers at varying levels of punch. Pleasant peachy flavour arrives very late, with some bitterness.
---
1: In fact, it was enough to put me in mind of Orbitz, an ill-conceived soft-drink-with-globs-in from my high school days. A few of the people I was sitting with were young enough to have no idea what I was talking about; they were the lucky ones. And weirdly, a related series of posts and comics appeared on Penny Arcade around the same time. It seems that Pepsi have rediscovered the with-globs-in idea, which makes me shed a little tear for our lack of progress, as a civilisation.