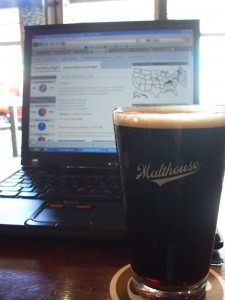 Verbatim: Tuatara Porter. A quiet little achiever, this one. On hand pump at das Malthaus, and so lovely and smooth and, well, flat. A nice way to ease yourself (and others) into drinking dark beer, it's subtly coffee-ish and toast-ish and slightly chocolatey. A surprisingly good pre-lunch pint, too.
Afterthoughts, November 2010: After a long run of having the Tuatara IPA as my habitual after-work drink (roughly around the time of this 'entry'), I think the porter has eventually become my favourite of the range. Especially on the handpull at work.
And in the background there is the deliciously nerdy fivethirtyeight.com (now deservingly subsumed into the New York Times webpage). I do love watching politics unfold, and am definitely fond of actual data, rather than talking heads wobbling their faces and venting their half-baked opinions. FiveThirtyEight and (the earlier, but somewhat more basic) electoral-vote.com thus necessitated that we be armed with a laptop as we watched the election. We did get some funny looks, but we also started a trend; just this week at the pub, people were gathered around, just as we were, to watch the American midterms. The most-recent local national election was up on the big screens, too — despite the result, there, it was nice to have something playing other than sport upon sport upon sport.