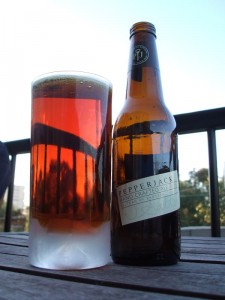 There's the beginnings of a trend towards a wee fusion between beermakers and winemakers, and here's a good example. Pepperjack is, ordinarily, a Shiraz. Of which I'm quite fond, despite being a Malt Nerd. I haven't yet found out just how it's incorporated into their Ale, but it allegedly is. The result is basically a decent straight up-and-down bitter ale. When I'm in that mood, I'd rather a Little Creature's Rogers, but this can't really be faulted. Except maybe in marketing terms; it'd probably be a difficult style for "evangelism" to wine drinkers. But maybe that was never really their concern; they've made something pretty tasty and pretty interesting and, well, pretty. That's enough to warrant a tip of our glasses.
Verbatim: Pepperjack Ale. 5/10/08 $3.5 @ Markets. Made with Pepperjack Shiraz, somehow. It doesn't say. Basically a decent straight up and down bitter ale. Maybe not different enough, for the odd pitching. Not one for evangelising to wine drinkers despite appearance.
Afterthoughts, October 2010: So here I was, sitting at the bar on my night off and tinkering with these things, uploading some more of the backlog. And I'm thinking to myself 'what to drink?', when it occurs to me that I have a bottle of this in my personal stash in the fridge. How appropriate. (Many thanks to Glenn, who I used to work with in Melbourne, who grabbed me some Interesting Looking Beers when he came over not long ago.)
On another go, I'm a bigger fan. It's tasty, more 'different' than I remember, and definitely has a shirazzy zing.