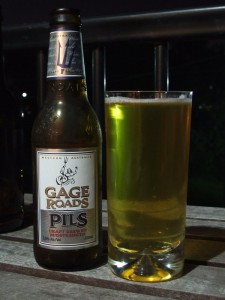 I'd previously been given their IPA by Karen & Lee when they visited New Zealand last year, and am always keen to try something from the Dear Old West. It's a great example of the Australian Midstrength; slightly less boozy, so you can just keep drinking and sitting around passing time with friends for hours on end without getting too blurry — they're the hot-climate cousin to British "Session Ales".
This Pils maybe isn't quite "pilsy" enough for me, but that's just a matter of labelling. It's a seriously refreshing bottle of lagery goodness. Toby compared something about the feel of it to having a piece of rosewater Turkish delight. And odd as that sounds, he's on to something.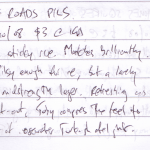 Verbatim: Gage Roads Pils. 2/10/08 $3 @ IGA. With sticky rice. Matches brilliantly. Not Pilsy enough for me, but a lovely crisp midstrength lager. Refreshing as all get-out. Toby compares the feel to a bit of rosewater Turkish delight.
Afterthoughts, October 2010: The session-strength segment of the market remains shamefully overlooked here in New Zealand. There is one deservedly-legendary exception in Emerson's 'Bookbinder', and occasional feats of genius like Hallertau's 'Minimus', but still. Too much emphasis on the loopily-boozy in the scene these days.