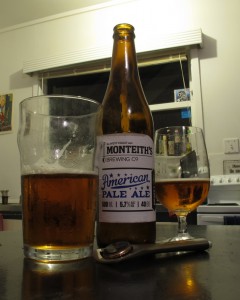 Over the decade I've been taking handwritten notes of my beer-drinking experiences, I have inevitably developed an idiosyncratic Style Guide.1 Broadly — though there are exceptions early on as the pattern developed, and sporadically throughout as I either forgot my own practice or thought of some now-lost rationalisation for a variance in some particular case — it's like this: beer names are all capitals in the pen-and-paper form for easier cross-referencing, but otherwise just regular Title Case, with single-quote marks around a beer's name when it's a name, in the proper noun sense rather than a style descriptor. So Epic Pale Ale, but Epic 'Mayhem', if you follow. But this one, the latest in Monteith's white label Brewer's Series,2 necessitated I reach for the double-barreled scarequotes instead.
Objectivity is hard to find — and usually not worth looking for — in the beer world (or any other sensory pursuit), but I think I can comfortably say that this is no American Pale Ale in any sane sense of those words. Beer writer Neil Miller got a freebie in the post3 and Tweeted that it'd come with a package of Citra hops. The obvious jab — "Hey Monteith's, the hops go in the beer…" — swiftly ensued, but turned out truer than anyone could've known: the beer has damn-near zero aroma or hop flavour, and certainly none remotely in the ballpark that "A.P.A." would entail and require. I was instantly put in mind of the pale ale in Lion's ridiculous 'Crafty Beggars' range4 — both smelled more like an empty glass that had previously held beer than one which currently did. It was insipid, incredibly boring, and what extra flavour did manifest itself as it warmed up a little and I grudgingly proceeded down the glass was not the kind that was welcome. The 40 I.B.U. — "International Bitterness Units", a doomed-but-useful way of trying to measure the palate-punch of hops — on the label implies a relatively easy-going pale ale, sure, but this was so insubstantial as to amount to a cruel joke.
Because the problem here is that this kind of massive mislabeling cuts both ways. It's not just that beer nerds and brewers should feel affronted to see a venerable and popular style being so poorly aped, it's that anyone who likes this could well be horribly surprised if ever they buy a true-to-style American Pale Ale. Everyone would be better served if this was marketed as Heineken Trading As Monteith's Brand Fermented Product Number Sixteen, instead; as it is, no matter how much you know about the words on the label, you know nothing about the beer inside — and vice versa . That it comes from the same sprawling conglomerate who've long abused the term "India Pale Ale"5 on a sweet and caramelly brown lager, as well as selling a "Radler" that isn't a Radler, should put them firmly On Notice. It could always be pure incompetence and ignorance — and we are supposed to presume cock-up before conspiracy — but it's so consistent that it looks more like deliberate piss-taking and deception. It's as if Tony Mercer, the putative head brewer, is channeling Tony Soprano, running around the style spectrum and trying to ruin people's idea of what each variety of beer can really be — much like the latter drove all over Jersey to meet with all the best divorce attorneys just so his wife couldn't hire them later. A company of this scale could be a properly-wonderful provider of accessible 'gateway' beer and fridge-friendly stuff for the masses however nerdy or not, but sadly they seem to prefer wallowing in nonsense and pretending to be all kinds of things they aren't.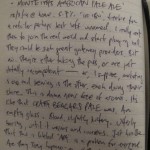 Original notes: Monteith's "American Pale " 18/3/14 @ home. 5.7% "40 IBU", freebie from a retailer perhaps best left unnamed. I really want them to join the real world and start playing ball. They could be such great gateway providers. But no. They're either taking the piss, or are just totally incompetent — or, I suppose, marketing is one and brewing is the other, each doing their share. This is damn near free of aroma. It's like that Crafty Beggars Pale was. An empty glass. Bland, slightly buttery. Utterly boring, until it warms and worsens. Just horrible. That this is labeled "APA" is a problem for everyone. Are they Tony Soprano-ing all the beer styles?
---
1: "Decade"? Crap. I missed my own note-taking anniversary. Probably because I have the kind of memory issues that necessitate note-taking in the first place. "Inevitably" because the Diary started just after (my first round of) University finished. ↑
2: Paging Dr. Freud, meanwhile. A "Brewer's Series" does seem like a strangely-blunt admission that the main range is dictated more by the marketing and accounting departments, doesn't it? ↑
3: Almost certainly both because I am a notoriously grumpy bugger, and I am not a proper professional writer, I tend not to get sent samples. Indeed, a stickler in my own weird ways, I would (and have, on occasion) usually turn them down. Notable exceptions, though, are the bottle of Epic's 'One Trick Pony' IPA that Luke Nicholas generously sent me on each version's release (because I helped name the series), the couple of bottles Moa sent me (before I could get around to telling them not to; I'll find a home for those soon…) — and this, which came from a bottle store who were somewhere between mystified and outraged by it, and wanted to share the experience around. ↑
4: I hear a rumour that the Crafty Beggars brand has failed to meet expectations, and will be axed. The big breweries sure are fickle with their new ideas. Meanwhile, I am still happy calling the whole experiment "ridiculous", with the proviso that the everything in its right place principle did render one of its members worthwhile on a very specific occasion. ↑
5: Occasionally, you hear a minor defence of D.B. along the lines that they appended the "East" to IPA and thereby made up a nonsense new style and so technically aren't bullshitting anyone. Sadly, that fails on two counts: "East India Pale Ale" really is the original style term, and D.B. explicitly (and very, very wrongly) link their product to the Usual History of IPA. ↑