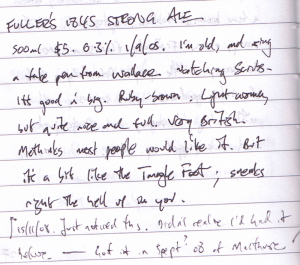 Verbatim: Fuller's 1845 Strong Ale. 500ml, $5, 6.4%, 1/9/05. I'm old, and using a fake pen from Wallace. Watching Scrubs. It's good n' big. Ruby-brown. Light aroma, but quite nice and full. Very British. Methinks most people would like it. But it's a bit like the Tangle Foot; sneaks right the hell up on you.
Verbatim Afterthoughts, November 2008: Just noticed this. Didn't realise I'd had it before. — Got it in Sept? 08 at Malthouse. Loved the huge maltiness, when all around me was going for hoppiness.
Afterthoughts, October 2010: See? Afterthoughts are a great idea. There's some actual handwritten ones! And I really should always carry my damn Diary.