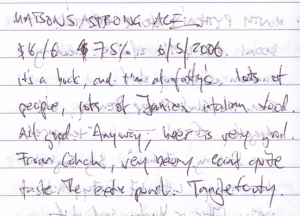 Verbatim: Matson's Strong Ale. $16/6, 7.5%, 6/5/2006. It's a bock, and I'm at Fatty's. Lots of people, lots of Jamie's Italian Food. All good. Anyway, beer is very good. From Chch, very beery. Can't quite taste the extra punch. Tanglefooty.
Afterthoughts, October 2010: Six months without a note? This thing is seriously patchy, in its early days. And things are about to get worse… (Meanwhile, the pen from this page is being seriously out-done by the pen from the page before, isn't it?)
Matson's have gone through quite a few reshuffles of their range and their branding (landing, currently, on a logo alarmingly reminiscent of that for the Malthouse…), but I do see they're also fond of that line-blurring nonsense that DB are so fond of — calling a doppelbock a "strong ale", and all.