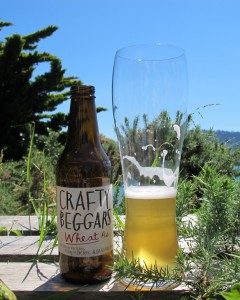 In this, as in all things, context is king. Perfect circumstances can rescue the naffest of beers — and mismatchings of time and/or place could equally ruin the most otherwise-charming. Today, Wellingtonians were rightly beside themselves with the sheer loveliness of the weather out there, seizing upon this as the first real Saturday of the summer by pootling around in boats, sitting in the warm sunshine, or hurling themselves off a pier and into the still-actually-rather-brisk-now-you-mention-it harbour. Myself, I was gardening.1 My deeply-ingrained nocturnality is slowly and awkwardly (but painlessly enough) giving way and I'm becoming a little more ambitempstrous2 as I slowly discover worthwhile things about the daylight hours the Normals inhabit.
Meanwhile, there was a Crafty Beggars 'Wheat As' in my fridge, thanks to its — potentially ironic — inclusion in a little Thank You parcel the Brewers' Guild gave me after I helped go over the Beer Writer Of The Year nominees earlier this year. Since I was hugely not a fan of it the first time I had it — as an inherently-underwhelming thing as well as because of its annoying halo of brandwank — I resolved to give this "bonus" bottle its best-possible go. A few hours of serious hack-and-slash dig-and-heave garden rehabilitation provided exactly the right opportunity to climb the goat-track to the Thinking Chair in the back corner of the property to take in the view,3 eat some delicious cheese, and have a beer.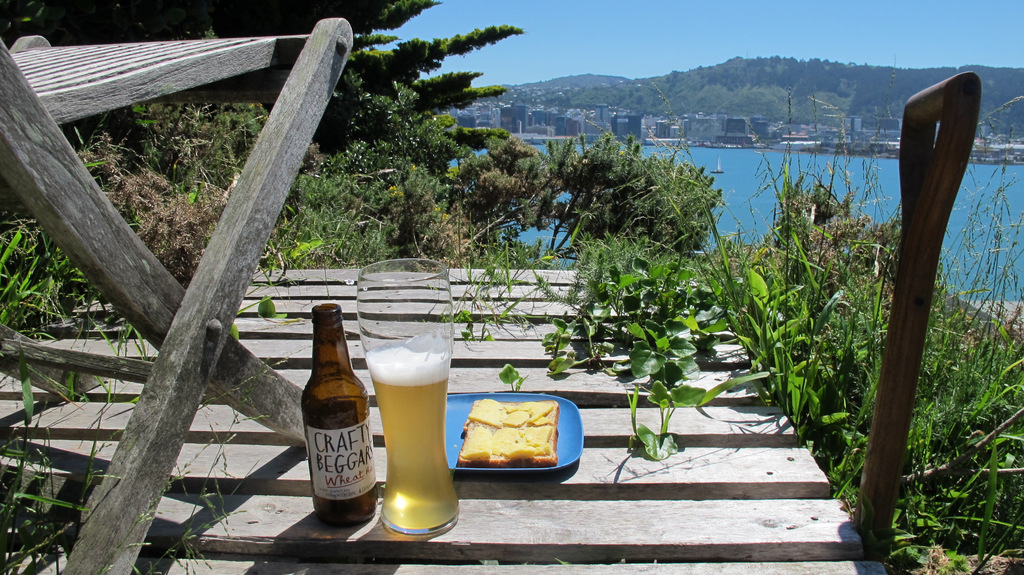 And it was, I'll cheerfully admit, fucking glorious; properly refreshing, flavourful but not distractingly so, it went gangbusters with the cheese (and its surroundings), and had the added benefit of being a sessionable four-point-zero percent. Given the price-point these things seemed to be pitched at — doubtless to serve as a bulwark against Independent / Asahi's rather-aggressive (and successful!) attempt to carve out some market share — it could prove one of the bargain buys of the summer. If — always a crucial "if", and always up to the individual — you can bring yourself to hand over your money to its producer.
If you'll forgive the loose extrapolations from a single (but sublime) moment, this impossible-to-overstate element of context is a good part of the reason why I can never bring myself to push the "ratings" buttons in Untappd, and a strong element of my ongoing leeriness of beer awards. What would I be rating any particular beer against — my assumptions of what it was going to be like, its reputation, its "style" (defined by its marketing department, or someone more "objective"?), or how it fit the particular occasion, no matter how little thought I gave to my selection? And likewise, what hope can any number of potentially-bloody-marvellous beers have of being at their best in a little tasting glass, among scores of broadly-similar relatives, at a table full of weary judges?
I would happily stand up in any beer geek support group and say "Hi, my name is Phil Cook and, just the other day, I acutally bloody loved a Crafty Beggars 'Wheat As'". Hopefully, this is part of what separates the enthusiasts from the snobs. I won't be rushing out to buy more — Lion aren't in boycott territory,4 but I think there always plenty of more-deserving candidates for a dose of my meagre monies — but, in context, it was great. If you need me, I'll be up in my Thinking Chair, mulling that over.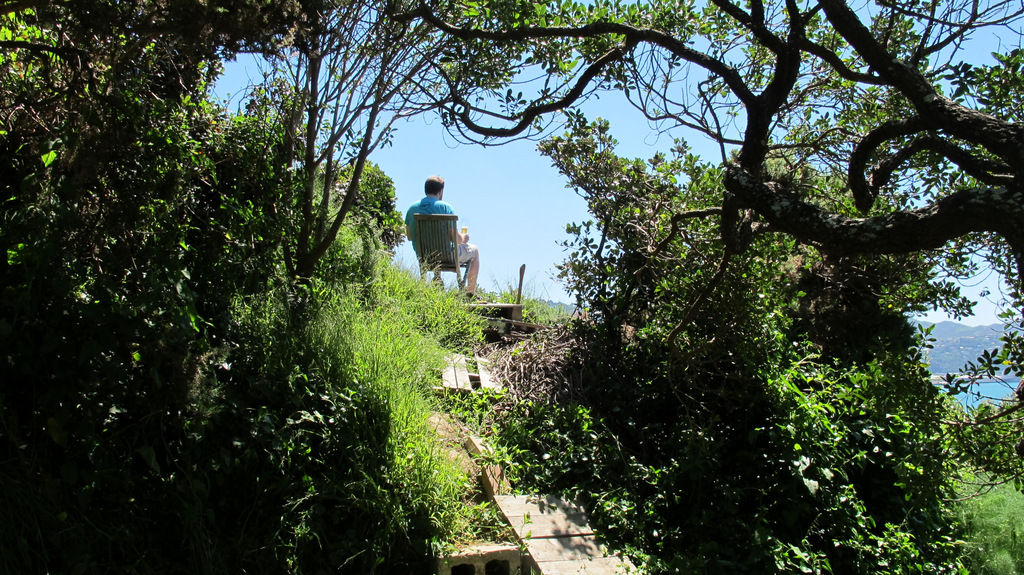 ---
1: And then I hurled myself off a pier. ↑
2: Apparently the actual word is "cathemeral". ↑
3: Caveats: 1) it's a rental, not "mine" (nor even "my bank's") in the ownership sense, 2) there's a seriously perilous goat-track to get to this spot; it's not even vaguely representative of the rest of the place. I hope my Middle Class credentials are unsullied after you've seen my Harbour Views. ↑
4: Unlike, you know, some people. ↑