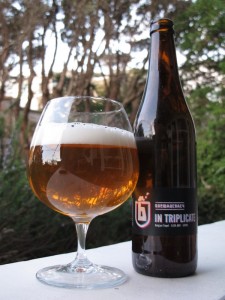 It's a vaguely productive but incredibly restoring weekend, here. I've been going through the dimmer recesses of my fridge and finally pulling out things like Brewaucracy's 'In Triplicate' — pictured, at right, not too long ago and still going as I write this —and belatedly realised that last weekend was so (oddly) productive that I neglected my Sunday Reading completely. As a tradition, we're off to a shaky start indeed — but postponements of various kinds and durations are par for the course, around here; if anything, that is the meta-level tradition.
George and I — and a plus-one who didn't really count as a guest in the usual sense — sat down for a podcast recording session yesterday, and I've got my Matariki and Beervana debriefs in draft form; more-regular transmission stands a good chance of soon resuming. Meanwhile, there's still plenty going on to catch up with:
And with that, it's time for the last (delicious) sip of this 'In Triplicate'. Cheers!
---
1: Not that that biography mentions TFBM, shamefully. Meanwhile, the other readily-Googleable "Pat Lawlor" is responsible for the stupidly-awesome Twilight Zone pinball table. It's an auspicious name. ↑