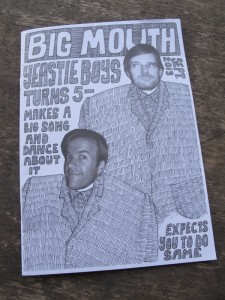 A day of rest sounds like a fine idea, as the peak of the local beer-business-craziness begins at last to recede — and even though my Sunday has been relatively productive so far, it's certainly been restfully so. My general timetable still hasn't settled down so much that I'm getting a lot of Rambling Time, but my Reading Time is mercifully intact and I wanted to start sharing a little of it more widely — since there are metric bucketloads of good stuff out there worth casting your own eyeballs over.
My intention is to do this kind of thing regularly, making little bookmarks as trawl the internets with my morning coffee during the week. I'm sure I'll miss out plenty of gems this time, my memory being what it is, but here's plenty to get started with:
Yeastie Boys' birthday zine, Big Mouth: A lovely surprise in the Hashigo Magazine Rack was the above-pictured little masterpiece, produced to celebrate five years of operation for Sam & Stu. Em's been reading it on the porch as I assemble this post, and blurbed it simply as "positively cool". It's got ramblings, disturbingly hilarious imagery, oddball humour — and even occasional mentions of, you know, beer. I'm not sure if they will or have already put it online, or whether it'll remain an old-school dead-tree production, but it's worth seeking out for sure.
Let There Be Beer: Melissa Cole dissects a tragically shallow and bland promotion, which reminds me all too much of Lion's local 'Made To Match' attempt. Despite a wealth of potential awesomeness in the "beer and food" field, these fail entirely. Sad.
Beervana debriefs: I'm grotesquely overdue to write up my own — it's here on my computer, in draft form, and was originally even a Beervana Preview, before ingloriously falling off my bike like a complete gumby on my way to the Brewer's Guild Awards thwarted my plans of posting that — but the task has been ably handled, in images and text and video, by Jed Soane, Tim Herbert & Jono Galuszka, and Paul Wicksteed respectively — and that's just for starters.
The (Full) Session: James has returned from his Little Country travels, during which I had the fortune to meet him (lovely chap), and posted his round-up of 'Elevator Pitch' rambles — of which there are a lot, and I'm very much enjoying going through them slowly, adding most of the authors to my forever-expanding Feedly (if they weren't there already). A whole mass of short pieces is a great way to survey the scene and see what a diverse mob of awesomely opinionated weirdos we all are.
A little post-awards profile of Martin Townshend, whose beers I seem to habitually (and deservedly) recommend on the podcast, which is worth it just for the photo that makes him look like a mischievous little imp, hardly bigger than a bucket.
Moa's annual meeting results: As much as a non-zero-axis graph irritates me every damn time, I'll admit to being transfixed by the movement of Moa's share price. Michael Donaldson, last week, wrote a great little piece about their recent and ongoing woes, and it's been the subject of plenty of pondering which I'll (mostly) leave alone for now. It's interesting that their publicly-traded status opens a window into usually-private meetings; the notes from their recent annual meeting are online and worth a read to see how the (at best) terminally deluded talk amongst themselves. Personally, my favourite bit is this, from Geoff Ross:


To start, I would like to re state the Moa Vision — 'To Become New Zealand's beer brand, globally'.1 Given New Zealand's growing beverage credentials worldwide, given that every country has a beer brand attached to it — Mexico Corona, Australia Fosters, Italy Peroni etc. We believe we have the brand story, the exportability via our shelf life, and provenance and identity to be this brand for New Zealand.

Craft Beer continues to be in growth worldwide. And whilst there are more entrants, there will only be a small number of participants that have the capability — skills, capital, and experience — to become a business of scale and global in nature. We believe Moa has what it takes to be one of these brands.

I put it to you that anyone who doesn't mind the contradictions in that pitch (and how akwardly it sits beside boasts of being a "super-premium" beverage)2 either doesn't know what the fuck they are talking about — or is speaking to a room full of people who don't know what the fuck they are talking about and is attempting to extort as much money as possible from them before they figure it out.
---
1: Not that I should have to be the one to point this out to them, but the "vision" in the original IPO document was to create "New Zealand's beer, globally" — letting that troublesome word brand slip in before the comma is perhaps a revealingly significant difference, and down that road lies sublime ridiculousness. ↑
2: In case you need help: clear-bottle-and-a-citrus-wedge Corona is the poster child for "it's just too damn hot, I'll have a vaguely-beer-flavoured sparkling water, thanks"; Fosters is popular internationally as mass-market swill, reduced to the kind of shallow commodity that just gets brewed under license close to wherever its sold, and so laughable in its home market that even its parent company wanks on about "Crown Lager" instead; and Peroni's just, well, an incredibly boring example of the same. Those were Ross' three examples? How incredibly out of touch is he? ↑