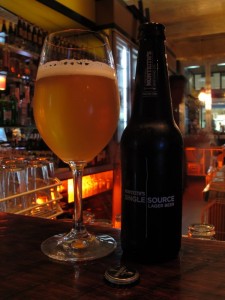 So Monteith's — i.e., D.B. (i.e., Asia Pacific Breweries) — has re-commissioned the Greymouth brewery that they, in a near-unprecedented display of tin-eared-ness, originally decided to close back in 2001. It was essentially a museum for several years, but they've decided to spark it up again, to produce a range of (self-described) craft beers throughout the year. The first out the doors were, apparently an unfiltered apricot wheat beer and an IPA, which I really will have to try because a) the apricot wheat thing from their rival Speight's (i.e., Lion) still reigns as the worst beer I've ever tasted (and I don't imagine for a moment the problem was merely that it, unlike this new one, was filtered), and b) a quote-unquote "IPA" from the company who make Tui could frankly be anything. They freely use those initials on a New Zealand Draught / Amber Lager, after all, so who knows whatever-the-fuck they've just made in Greymouth. A company so apparently-unafraid of the Consumer Guarantees and Fair Trading Acts could've put anything in a bottle with that on the label; a saison, an actual radler — or apple juice, or 330ml of rainbows. I am, I'll admit, morbidly curious.
But most interesting to the local craft beer community — the real one — is the news that they'll be releasing a "porter noir". A few seconds with The Google will confirm that basically no-one has used that phrase in regards beer other than the much-loved Hallertau brewpub outside Auckland. And there's very good reason for that: "noir" (i.e., "black") is ordinarily redundant if you're talking porter — they're already black (or at least very-dark-brown). Hallertau's offering is aged in Pinot Noir barrels, so for them, it's an instance of the longstanding pun / portmanteau tradition in beer naming. For the record, I freakin' adore Hallertau's "Porter Noir"; you should try it, if you haven't, and I'm frankly rather embarrassed it's not in my Diary. Since the barrels retain plenty of wine flavours and are dosed with / already home to Brettanomyces, the beer acquires a gorgeously tart-and-funky character. I recently had a sample from a two-year-old bottle, and it ages stupendously well.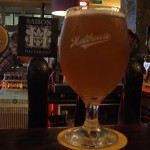 What, though, could the name mean to Monteith's / D.B.? Like I said, noir is redundant. Unless, perhaps, you're intentionally tweaking Hallertau.4 Despite the beer being produced for several years now, the phrase was never registered as a trademark — and I'd be up for arguing that a good sign of the health of a real craft brewery lies in the paucity of their trademark portfolio — although it seems they've applied today.1 During what is surely by now known as The Radler Fiasco, one of the often-overlooked little titbits was that D.B. also held the trademark on "Saison", a word which is just as straightforwardly an unregistrable style term as "radler" ever was.2 Surprisingly sensibly, they quietly abandoned the mark and entirely neglected to take a swipe at Hallertau for producing a saison — and calling it such — while D.B. "owned" the word.3 Maybe they've held a grudge all this time, and this is their petty little way of having the last word years later, like some insufficiently-witty sap who thinks of the perfect sharp-tongued comeback in the car on the way home. This should be fascinating to watch play out. Pass the popcorn — and the Porter Noir.
Finally, on a Small World / Personal History note, I recently discovered that the current brand manager for Monteith's is a former colleague of mine from way back in my first-ever bar job, a decade and a half ago. We haven't spoken since, but I do like the weirdness of both of us winding up — via long and circuitous arcs — in different (and, let's face it, opposed) corners of the the beer business. Perhaps it's time for a catch-up.
Epilogue, 31 July: Hallertau put up a message on Twitter today, saying D.B. have claimed that they didn't realise the name "Porter Noir" was in use and were undertaking to take the N-word (so to speak) off the label — after Beervana.
D.B.'s undertaking as to timing is, for a start, a dick move. The beer hasn't been released yet, so the good-form thing to do upon discovering an innocent mistake like this (taking them, provisionally, at their word) is to re-do the labels anyway. That's precisely what the Yeastie Boys did when it was brought to their attention that the planned logo for a new company, Hops Valley, was coincidentally rather-similar to the one they'd had designed for Gunnamatta. This case is even plainer, because Porter Noir has existed for ages.
Which, if you think about it, is the bigger problem for D.B.. Their claim of innocence in the matter of standing all over an existing product is equivalent to an admission of complete cluelessness in the business of craft beer — Porter Noir has existed for ages. There really isn't a middle path, no way for D.B. / Monteith's to chart a course between Badness and Dumbness without touching the sides. Since Badness tends to be more legally actionable, it's not surprising which bank they veered towards, but it's a revealing 'resolution' to the #porternoirsaga all the same.
It's a sprawling enough organisation that they'll always be able to piece together plausible deniability, but — given their history of brandwank, distortion and the potential relevance of the old "Saison" trademark — I remain unconvinced.
Post-epilogue, 1 August: There's a really good write-up of the whole affair in today's paper. Beer-related stories are still all-too-often abysmally written and under-researched, but that piece is fair, goes into enough background, and doesn't shy away from pointing out how embarrassing this is / should be for D.B..
But I just can't agree that the answer to this kind of drama is more trademarks. It'd be unrealistic and would amount to a nagging disincentive if breweries large and small were expected to pay IPONZ (and probably a lawyer) each time they came up with a new beer — and if everything was filed that way, we'd quickly amass a back-catalogue of untouchable but rusting and unused names pointlessly locked away or worse, we'd encourage speculative registration-squatting and name hoarding.
It is absolutely not Steve Plowman's fault that D.B. were poised to steal his beer's name, inadvertently or not; he's way too generous in saying that, to the point where I hope he doesn't believe it and is just exercising restraint and being political — which isn't necessarily a bad thing, in moderation. The Google isn't hard to use, and someone at D.B. / Monteith's should've exercised the merest possible give-a-damn and checked. And if they did find Hallertau's beer, or did already know about it, the fact it was unregistered shouldn't matter. Civil behaviour, even in business, isn't complicated: don't be a dick.
---
1: The website for IPONZ (the Intellectual Property Office of New Zealand) is fatally and inexcusably stupid in the way it 'times out' your session and doesn't allow the bookmarking or linking of individual reports. But if you go and search "Porter Noir", you'll find a submission dated 26 July 2012 (i.e., today) from "Pacific Brew Limited", which seems to be the official company name for Hallertau.
2: In the main run, spirit and original intent of trademark law, at least. And, you know, in my own honest opinion. Ahem.
3: IPONZ, in their history of the mark, note that it was cancelled per an email of 7 September 2009. That photo, above, is of a Hallertau Saison I was drinking in July of that year.
4: It belatedly occurs to me — he says, writing on the 27th, hence the out-of-sequence footnote — that I should explicitly allow for the possibility that Monteith's are also planning to Pinot-up their porter. I discounted that in my initial run of writing, assuming (perhaps too generously) that a) the newspaper write-up would've leapt all over / at least mentioned a detail like that and b) there just hasn't been time to barrel something out of the new brewery — but then: this company might be willing to simply dose the beer with Barrel Essence and a goon-bag of Dollar-store Pinot Flavoured Wine Substitute (he says, firmly in the spirit of satire, if the lawyers are still reading). Then it just becomes a question of whether they're intentionally tweaking Hallertau by lifting the name, whether they're sufficiently-removed from the real craft beer scene that they'd never heard of it (Dux de Lux, for example, Pinot'ed a porter and called it "Pinot Porter"; other names are possible), or whether it really was an honest mistake and they'll now — Hallertau have written to them to arrange a meeting next week — back down. Given D.B.'s history, they'll have to just excuse me if I can't be so generous as to assume the latter is the case.