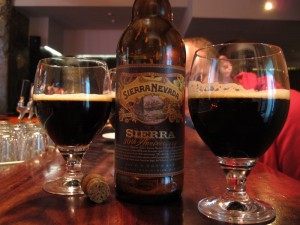 Well now. It has been a while. Again. The value of t has graduated to the triple digits and is going to need a serious hammering to get back to a civilised size. So: roll sleeves up, make sandwich, brew tea, forget about tea, grab beer, roll sleeves back down because it's actually kinda chilly, remember about tea, curse bad memory, and back to it.1
I've long been a sucker for an Occasion Beer, and brewery anniversaries are a great excuse to try something new and celebrate what you're all about. They're results aren't always spectacular; Tuatara basically phoned it in with their 'X' ale, if you ask me (although this year's XI was a massive improvement on pitch, execution and all fronts — it'll show up a little later in the Diary). But at the other end of the naff-awesome spectrum is 8 Wired, who knocked the ball out of the park and pretty much brewed the Platonic Form of the Anniversary Beer with their masterful 'Batch 18'. Sierra Nevada, facing their unquestionably-milestonish 30th birthday, undertook a project of suitable size and scope, and which also nicely demonstrated their (relative) Elder Statesman status in the craft brewing business and the getting-shit-done capacity that that entails.
For a few years, they'd brewed an 'Anniversary Ale' for their birthday, basically a variant-edition of the Cascade-heavy pale ale that made them famous — and basically made "American Pale Ale" into a thing at all. With the big three-oh coming up, and since they were never only all about the pale ale, they broadened the scope of the Birthday Project to include multiple brews, in several styles, made in collaboration with all sorts of industry notables. Two of the series made it as far as us: an 'Imperial Helles' (a genuinely-interesting embiggened lager that managed to build something relaxed and worthy where a superficially-similar thing like Crown 'Ambassador' instead almost drowns in its own wank — I had mine on my 31st birthday, which seemed appropriate enough), and this.
It's a glorious big-in-every-direction kind of thing; huge and boozy and rich and many-layered. Weighty and thick, it had a peculiar combination of sweetness and savory smokiness that made it like some Mad Science hybrid of birthday cake and birthday steak. My notes inevitably don't do it any justice; this is another Distracted Diary Entry — not to the point where I had to take a do-over the next day, as I did with after the Random Ragtime Band Incident — since my friends Aran (that's him in the red hoodie, attempting / succeeding at a photobomb) and Maeve were in town before heading off to pack up one house, move into another, then pop over to Italy to get married. As you do.
Freakishly, just as I finally type this up way too late, they were in the bar again tonight for the first time since. These things happen alarmingly often: Rex Attitude's second batch appeared just as my tardy notes appeared online, and the same thing happened, if I remember rightly, with Hop Zombie. My slackness does have a weird way of keeping me relevant, somehow (in peculiar senses, at least), but I should take the time to promise (but not guarantee) that I am trying to trim it down…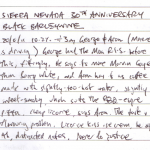 Verbatim: Sierra Nevada 30th Anniversary Black Barleywine 20/6/11 10.2% ÷ 3 w/ George & Aran (Maeve is driving) George had the Moa R.I.S. before this, fittingly. He says its more Marvin Gaye than Barry White, and Aran has it as coffee made with slightly-too-hot water, slightly sweet-smoky, which suits the BBQ-esque pizza. Cheap licorice, says Aran. The taste v flavouring problem. Licorice kiss ice cream, he says. Ah, distracted notes. Never do justice.
---
1: That is an accurate sequence for the moment preceding sitting down to write this evening. A full accounting of the process would also include breaks / interruptions along the lines of: read news, clean kitchen, play Bastion, go grocery shopping, watch Futurama, and then remember about the tea (again) and brew another pot. If there was a procrastination event at the Olympics, I'd have a collection of shiny medals by now — if I ever got around to signing up.
Originally / eventually posted: 5 November 2011