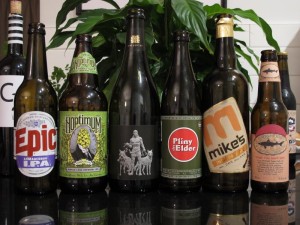 As the U.S. Hop Crisis — 2nd Edition, after the 2007 price rice / demand spike / availability crunch — starts to make itself felt, with stories of hop-fueled local beers being backburnered and put on hiatus for maybe-years, a tasting session like this seems absurdly decadent; the sort of wanton profligacy that makes a proudly-middle-class boy like me feel slightly squiffy and embarrassed. Thinking back upon it now and writing it up feels weirdly like reminiscing about days spent swimming in champagne, using high-denomination bills to light cigars, and paying the wastrel children of the lower classes a pittance to cart me hither and yon in a goddamn sedan chair. But, like a beer-powered meat-based version of Hedonism Bot, I apologise for nothing. We had a great time, and I'd do it again — though I probably should do so soon, while I still can.
If this new hop shortage really is the big deal that some people suggest — i.e., if it's not all just tulips in Holland, all over again — it'll be utterly fascinating to see what distorting effect it has on the beer drinker's palate. The New New Thing in a subculture like that of the Beer Fanatics is always changing, but it's especially interesting when change is imposed from 'outside' by something like an ingredient shortage rather than just by whatever-the-fuck it is that usually drives the ebbs and flows of these things (in fashion, or pop culture, or any number of other fields). It's possible that malt-forward beers will have an accidental renaissance, but if I have to put my Predicting Hat on, I'd have to guess that in the (relative) absence of hopness, we'll see a marked uptick in weirdness. Hopheads seem to correlate rather strikingly with extremophiles, in general — them being peatfreaks with their whisky and ultra-spicy food afficionados, and whatnot — so we might see a surge in the funky and the sour and the generally-rather-freaky. I'd be entirely unsurprised if idiosyncratic yeastiness (with a side order of wood-aged peculiarity, perhaps) was the Next Big Thing — but ultimately, who knows?
Anyway. Simon & Jessie — them who I met way back at a Birthday Dinner for Robyn, and who were there for the 'Beer 121' tasting session — had just-recently gotten back from California, and brought with them some swag to share. They all tilted toward the kind of hop-stupid things for which the Americans are (deservedly) famous for, so we decided to do a three-and-three face-off — which, given our shared experience of spending way too long at university (with an average of more-than-one degree-per-person and two out of our five still studying, in our thirties), it quickly became known as a Postgrad Seminar in IPA, or the Double IPA Workshop.
— Epic 'Armageddon' (Auckland, NZ, 6.66%)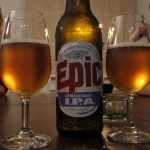 It's fair to say that if you find yourself having a beer called 'Armageddon' to calibrate and zero-in your palate, you're in for a pretty big night. This is something I've had umpteen times — though usually on tap, since it makes semi-regular appearances at work — and have really grown to enjoy. It's probably a "little bit of column A; little bit of column B" scenario whether that's because it's improved or whether my tastes have just drifted in its direction, but I do remember finding it rather obnoxious when it made its début in the original 'IPA Challenge' at Malthouse, way back when. It definitely changed a lot through its Challenge Season Iterations, and has settled into being a suitably big IPA, with an enjoyably multi-note aroma and a solid malty body. Its pieces are well put together, and it does make for an interesting contrast against the Hop Zombie I'd been drinking a lot of, around the same time — Zombie is officially 'stronger', but has a lighter body, and/but has more-lush hop flavours that match it very well; the two are both big, they're just differently big.
— Sierra Nevada 'Hoptimum' (Chico, California, 10.4%)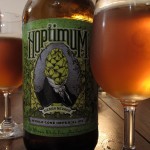 I'd seen ads for this in a few beer-related magazines that made their way into our Rack of Reading Material (thanks to generous / littering foreigners and wanderers) and utterly adored its label art. When Simon & Jessie told me that this was one of the IPAs they'd muled over, I was very excited to try it — but it just didn't quite do it for me, tragically. The colour was stunning (with its warmly rosy tint), and the aroma (which took a little while to waft out, surprisingly given its strength) was pleasant (if unusually understated). But, for me, it was just too fat, too hot and too bitter — so bitter, on the palate. That's no Gentleman Lupulus, on the label, that's the Headless Hopsman — a scary motherfucker out for a revenge that he seems to assume can only be had by laying waste to your tastebuds. But, like I say in my notes, it still does exactly what it says it will. My dislike of it — much like my (apparent) dislike of 8 Wired 'Superconductor', which came later at Malthouse's IPA Challenge (and I say "apparent" because I was off-and-on inflicted by nasty, flu-y, sense-impairing grossness at the time) — mirrors George's dislike of 'Rex Attitude'; I can honestly say (to the beer, I mean) that "It's not you, it's me".
— Hallertau 'Maximus Humulus Lupulus' (Riverhead, NZ, 6.8%)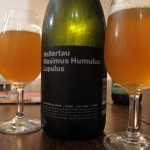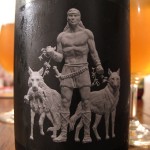 And so then back to something more familiar, to re-calibrate — and this must be the only real way to make the great-big Maximus flavours come across as light and refreshing. Originally brewed for the original Malthouse-hosted IPA head-to-head (against Epic's 'Armageddon', no less), Maximus has also changed around a bit and is now steadily available as a member of Hallertau's gorgeously-branded (and aptly-named) 'Heroic Range'. Just like 'Armageddon', it was once the top rung of its brewery's ladder in flavour-and-fiestiness terms but has since acquired a few more-full-on stablemates — and, of particular interest for me and my peculiarities, it spawned a midstrength sibling in the shape of the oh-so-lovely 'Minimus' (if only Epic's family expanded in the downward direction, now that would be interesting…). It took us right back to 'my kind' of big-hoppy loveliness, after the assault of the 'Hoptimum', and that nose — my gawd it smells delicious. As we all noted at the time, it practically made Sierra Nevada's Headless Hopsman smell like an empty glass that had held beer hours ago.
— Russian River 'Pliny the Elder' (Santa Rosa, California, 8%)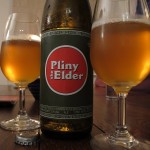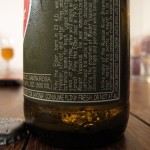 And then Pliny. About as famous a token of the type as you can get. I do very much like the way they relentlessly hammer home the plea / demand that you have your bottle in its best-possible condition ("Not for saving! Consume fresh or not at all!", and all that, on and on and over again). It's utterly-legendary status and the drink-it-fresh commandment make it difficult to 'judge' when you have it here at the bottom end of the world — a problem I struck once before — but this was in about as good a condition as you could've hoped for: Jessie and Simon were awesomely particular about it. When I check it's "bottled on" date, I was momentarily taken aback by just how absurdly fresh it was — it appeared to have been bottled on the day before, until I remembered the inexcusably daft middle-endian nature of U.S. calendar notation. But still, the 6th of April is pretty-damn-recent, when you're drinking on the 5th of June. And it is great. I'm still not convinced that it's absolutely the best damn pale ale ever to have graced our humble universe, as so many people attest, but it's astonishingly lovely stuff and remarkably well-balanced and put-together. George speculated that its reputation might, in addition to a bit of the Emperor's New Pale Ale effect, be bolstered by a sort of Watchmen-esque place in people's minds, earning extra credit for being gate-crashingly ahead of the curve in its day.
— Mike's Organic Double India Pale Ale (Urenui, NZ, 9%)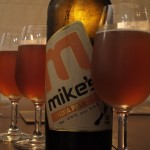 Last of the locals in the lineup was Mike's IIPA. Bookending a legend like Pliny with a couple of small-brewery offerings seems like an intimidating or unfair thing to do with the little guys, but it was genuinely awesome to see how well they stand up — they Americans really don't leave us in the dirt on this score, if anyone was worrying. My original plan was to have 8 Wired 'Hopwired' in this slot, but the Mike's makes an admirable substitute (as it's done in a tasting or two that I've hosted, when stocks of 8 Wired were scarce). It throws a bit of that characteristically-American pineyness into the mix, and stands as a big, solid, somewhat-sweet monolith of a thing. There's a fair amount of truth to the rule-of-thumb that 330ml offerings from Mike's will be well-made, if slightly mainstreamy (out of commercial necessity), but the big-ass 750ml bottles may well blow your mind. Batch #2 of the IPA certainly held its own in a difficult crowd, and while I continue to not remotely give a damn about the certified-organic nature of the enterprise, it is impressive that they can do what they do with that extra constraint.
— Dogfish Head '90 Minute' IPA (Milton, Delaware, 9%)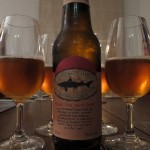 And then finally — and it was an enjoyable ordeal, heavy-laden with booze and hops as it was — we had a Dogfish Head '90 Minute' to finish. It presented in the same heavy-orange tone as the Mike's before it, but was shiningly clear. I've had this several times before and count it (and plenty of its siblings from the same brewery) among my favourites. Something about it fits nicely with the experimentalist spirit, too — its last appearance on here was as part of a side-by-side with its 60-minute brother. It's big and glorious and suitably night-cappy, although you may be able to see (if you scroll way up to the original 'Lineup' photo) that we actually finished things off with a different-but-slightly-similar Croucher 'Patriot', just to reset from all these hoppy pale ales and have something dark with our dessert. We all got a distinct 'vanilla' note out of the 90 Minute, although at that late stage, our palates had taken a pounding and we may have been in the thrall of a mass hallucination. This is why you end a great-big tasting with something you already know, I suppose.
But it was a bloody-marvellous evening, all round. Two definite take-home lessons stand out, to my mind: 1) that local brewers really are very good indeed, there really is no need for any kind of Small Country Shyness (not that we often exhibit it, but it's nice to be reassured), and that 2) beer is a many-splendoured thing; even when you pick a pretty-narrow corner of its spectrum of styles like IIPA, there's a lot of variety to be had. Beer can be, you could say, fractally lovely stuff — the loveliness needn't degrade, just because you zoom in closer.
Verbatim: Postgrad Workshop: I/IPA 5/6/11 @ George & Robyn's 1) Epic Armageddon To calibrate, and ZOMBIE wasn't around. Toffee-ish. Less one-note than PALE ALE. Massively contentious label text. 2) Sierra Nevada 'Hoptimum' Less aromatic, way more bitter in the face. Gorgeous glowing rosier colour. The label is misleading, until you see him as the Headless Hopsman. 10.4% Jeebus. Fat. More aromatic as it warms. But still maybe not the sure thing it should've been? Though it does do what it says on the tin. 3) Hallertau 'Maximus Humulus Lupulus' The first time it'll seem light + refreshing. Biggest nose so far. Paler, hazier, peachier. HOPTIMUM now smells like an empty glass. 4) Russian River 'Pliny the Elder' Again, with a much better travel provenance. Fresh, too. Bottled on the 6th of April, or yesterday, if the Americans used sensible dates. Fruitier, definitely well-balanced. Geroge is right that it's Watchmen-y, in that it'd be mind-blowing a generation ago, but it's still absolutely great, in context. 5) Mike's IPA Batch #2. Piney + fruity + a bit sweet — though we've now got spicy pizza competing. 6) Dogfish Head '90 Minute' IPA. Same colour, but clear. Definite vanilla streak in there, now. Weird. Bloody marvellous finisher.