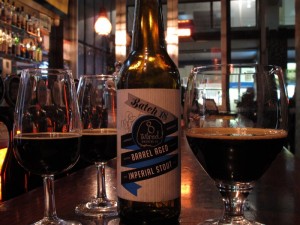 This is 'anniversary beer' done right. And good god damn is it done right. I am peculiarly fond of 'occasion beer' and so do love it when brewers mark special moments with special beers. But when they're afterthoughts, or half-assed, or tokenistic, then they're just sad. Tuatara's 'X' Anniversary Ale last year was one of those (for me, and just to pick the example that comes most-readily to mind) with its bungled packaging and uninspiring recipe — though it has to be said that this year's offering was considerably better on all fronts, but we'll get to that in its own turn, soon enough. Suffice it to say, though — as I already have done, twice — that 'Batch 18' is no let-down; it's a freakin' masterpiece.1
8 Wired really did hit the ground running back in late 2009, with a lovely brown ale (which came to be known as 'Rewired', but initially carried the somewhat-awkward name 'All of the Above'), then an attention-grabbing local-produce-celebrating pale ale (in 'Hopwired'), and onwards to an ever-expanding frequently-impressively-experimental range of beers. Most-recently, the still-relatively-new brewery's rise was marked by taking out the "Best Brewery" gong at the beer awards this year — an achievement that was utterly deserved and generated seemingly-none of the usual beer geek grumbles or quibbles with such awards.
But 'Batch 18' was in the works long before that. According to Søren's characteristically-useful label text, the plan was to celebrate an "anniversary" with their eighth batch, setting calendar-based timing aside and leaning instead on that numeral in their name. Things were way too busy when #8 rolled around, so they pushed it back to #18; do it right, or don't do it at all. I just love that;2 it takes balls to delay something obviously-occasion-based past its actual date, merely in the name of doing it right — just try, those of you with spouses,3 to skip an anniversary and see how much compensatory awesomeness is required in return. This, though? This gets away with it; it's massive and elaborate and you wouldn't want to've done it in a rush. It's a big imperial stout, fundamentally, but definitely isn't just a slightly blinged-up version of their bloody-lovely 'iStout'. Rather, it's brewed with two different yeast strains, dosed up with jaggery (a raw sugar, which throws in some interesting flavours and helps kick the alcoholic strength up a few notches), infused with coffee, aged for a few months in oak barrels, infused with more coffee — before finally being bottled up and wrapped in a gorgeous-but-simple label that implores you to a) share, and b) be brave.
So I did, and I was. After I was done for the night, I sat at the bar and poured out five glasses — while admittedly bogarting the biggest glass for myself. We were all struck by the forceful nature of the nose of it, on first whiff. This was not a beer that was shy about letting you know that a lot would be going on in the glass. It doesn't warn you away, but it does warn you nonetheless. There's a distinct booziness to it (it is 12.5%, after all), and that must help waft all those aromas up out of the glass. All the components are quite obviously doing something, and can certainly be picked out individually if you try hard enough — but it's also a deft exercise in Flavour Jenga; they're piled in a great big stack, but not precariously or without balance. They combine in interesting ways, too, stitching together into interestingly-unexpected notes like the "blue cheese and pears" comparison that Jono hit upon.
I've got two more of these, sitting in my stash at work. I should drag one out now (well, not now, since it's 4.30am as I write this) and have it in celebration of the Champion Brewery trophy, and then I might just leave the other bottle to sit and wait until their calendar-birthday rolls around later this year. Søren was pretty sure that the coffee flavour would ease right off over time, but it was still nicely present in the bottles we had at a Weta Digital beer tasting not too long ago — so there's an element of Science! to my plan, not just an attempt at delayed gratification and blatant act of hoarding. Thought it is those, also.
Verbatim: 8 Wired 'Batch 18' 3/6/11 500ml ÷ 5 with Peter, Haitch, Jono + Katie (the new girl) 12.5% $15-ish @ Reg. Bloody nice idea, well pitched and executed bang on. A little terrifying in your nose, but not in a bad way. Fumey + funky — blue cheese + pears, we think. Definitely hot + lingering on the palate, and you can definitely taste all the components. I said "definitely" twice. That's telling. It's a bit crazy, but in a charming kind of way, not (just) an off-putting one.
---
1: Hell, given the elaborate recipe and execution, it comes close to being a "masterpiece" in the older-school sense of the thing that signifies the turn from journeyman to craftsman. But that's not how the Brewer's Guild works, these days, despite the name. I have to say that, now I mention it (to myself so far, obviously), I can't shake the suspicion that it's a pretty neat idea…
2: I'm a habitual procrastinator, as you might be able to discern from the disparity between the dates of Diary entries and the dates on which they appear, here. When I feel the need to defend myself, usually just to myself, this is the line I run most often.
3: "Spice"?