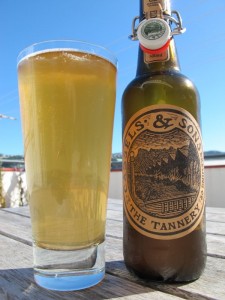 Lawks, I've fallen way behind on the updates again. The value of t has crept up to about 60 days. I knew it'd been a while, but the absurdly blue sky in this photo — compared against the much more me-ish weather we've been having laterly — really tipped me off. Excuses include occasionally-stonkingly-high levels of busy-ness at work, and a few technological problems I've been having with plugins not playing nice with other plugins.
But no mind; onwards!
This was me 'auditioning' a beer I'd never had before, contemplating its potential inclusion in a beer tasting I was running for some folks at the ACC. The brief was 'A reintroduction to the New Zealand craft beer scene'; just a nice general run-down on 'what's happening' — and you won't be able to talk much about that for quite a while yet without mentioning the long shadow cast by the February earthquake. I'd recently watched a video featuring the aftermath at the Cassels & Sons brewery which was equal-parts horrific (in the wreckage), amazing (in the near-misses) and inspiring (in their obvious 'fuck it; we'll get back on track' attitude); if you haven't seen it, you should. I resolved to include one of their beers in the line-up, and given that it already included quite a few darker, weightier things, I thought I'd give this one a go.
And really, it's a perfectly lovely thing. Nice, mild golden ale with a distinct-but-not-overblown fruity sideline from the Elderberries1 Elderflowers. At a nudge under 4%, it fits anyone's definition of 'sessionable' and so would be a freakin' marvellous barbeque-and-general-summer-mooching companion. It was a pretty big hit at the tasting, and I just found it a good bit more enjoyable than I ever found, say, Mata's vaguely-similarly-pitched honey and feijoa golden ales.
The next tasting I did on a basically-identical theme was a few weeks into the colder weather, so I swapped out this for their 'Dunkel' without even bothering to give it an audition like this one had. It quickly justified that decision, winning over the crowd and proving to be a nicely roasty dark lager — which apparently pushes it closer to being more-properly a Schwarzbier; the distinction between the two was a bit beyond my Beer Geek horizon, but this was a perfect time to learn. (Isn't it always?) Here's hoping these guys — and everyone else down there — get back to normality real soon.
Verbatim: Cassels & Sons 'Elder Ale' 30/3/11 $8 @ Reg, at home, auditioning for a beer tasting @ ACC on Friday. Lovely bottles, and nice to see some of their stuff after the earthquake, though it'll be a while before they're running again. 3.9% Elderflower-ed [that should be Elderberry-ed] ale, here. L&P-looking, flowers-and-funk nose. Decently quaffable and interesting. Nothing much, but not really trying to be. Middling near-golden ale, with an interesting sideline. Definitely good in the Sun.
---
1: Edited, 2 July 2011: I keep making that mistake; I fixed it when writing up my notes, but still made it here. Sheesh. Thanks to the Cassels crew for the incoming link, and the correction.