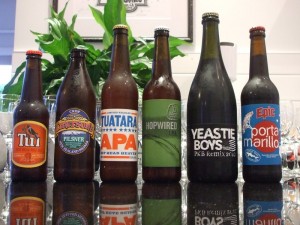 I'm not sure if any / many of you are sufficiently curious about this to actually push play — whether to eavesdrop on a tasting session, or just to have a sample of my peculiar untraceable accent (and occasionally-substantial lisp) — but we had buckets of fun doing this 'Beer 121: New Zealand Beer for Americans' thing, and so I'll share it regardless.
Two of the attendees proved themselves deviously useful: Jessie (a Californian friend and the catalyst for the event) surreptitiously recorded the proceedings on her fancypantsphone, and George (who was learning to use Audacity for an upcoming beer-related podcast project we're working on — about which more very soon indeed) edited the thing into beer-sized chunks, and pruned out the more extreme you-had-to-be-there tangents and irrelevances.1
The original post probably makes for something ranging between helpful and compulsory companion reading, since I used the space there to explain what was going on in my brain when I chose the lineup. I've also added 'show notes' to each beer here, to provide references / ramblings / corrections as required.
Hopefully-temporary note, 31 May 2011: Apologies for the absence of an in-post player. The whatsit that was generating those turns out to be conflicting with the whatsit that handles the gorgeous pop-up display doodads for my photos and Diary scans. As you can tell by the handwavey substitute-words, there, I'm not quite geeky enough to sort that out on my own, just yet. And since every post has pop-up images, but only this one had audio files in this format, something had to give. They should still work as downloads or as in-browser plays, though…
---
1: I don't remotely mean to imply that I don't endorse the sidetrackings — random table-talk and distractions can be a good chunk of the fun at a beer tasting. Beer is a social drink, after all. But particularly in a crowd where most of us knew each other fairly well, we perhaps got a bit in-jokey and peculiar for a wider audience.