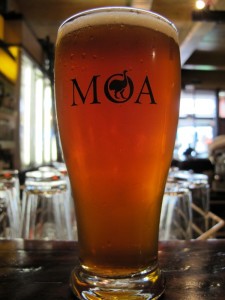 I've railed about it before, but Moa's appalling brandwank annoys me sufficiently that it still buzzes in my brain as I enjoy something like this, one of their actually-rather-lovely offerings.
Praise first, praise first; stifle the rant for a moment. '5 Hop' is a delicious E.S.B., richly flavoured and deftly balanced. It's warming without being so stodgy you'd only want it on a cold evening, and nicely pitched at 6.2% — strong enough to warrant taking your time with.
So, wait, why the hell is it called "Five Hop Winter Ale"? That name manages to evoke two different things that this beer isn't — it's neither hop-focused, nor particularly wintery. It's an E.S.B.. That's a thing. You can call it that. You do call it that, in an afterthought buried at the end of the label or in the tasting notes on the website. Were you just trying to stick the word "hop" on something, since you launched this at the height of the "more hops = more good" fad?
While I'm at it, this sort of crap is an ongoing problem with the Moa Brewery, and it will be very interesting to see what does and does not survive the currently-underway 'retooling' of the branding. Given the prominent appearance of the nonsense phrase "super premium"1 on the new tap badge, I'm not massively hopeful things will get much better — though I'm fascinated to find out which bits will get worse.
Setting aside for the moment such annoyances as their daft implication that they're the only brewery in the country (in existence, perhaps?) to bottle-condition their beers,2 let's focus for a moment on just one part of their labels: the arch of text over the logo. Moa 'Original' premiered with a banner of "Premium Lager of New Zealand", with 'Noir' then heralded as "Premium Dark Lager of New Zealand" and 'Blanc' cleverly cast as "Premium Wheat Beer of New Zealand", subtly brushing aside the apparent reality that their wheat beer is also a lager, rather than the ale you'd almost certainly otherwise expect. Things then go all a bit whack. 'Harvest' (a lager with cherry flavouring) gets "Premium Alcoholic Harvest Beer", which seems to imply three falsehoods — i.e., that the previous three aren't alcoholic, that this isn't made in New Zealand, and that "Harvest Beer" means anything at all.3 Then, 'Five Hop' and 'St. Joseph' get lumped together and mysteriously relegated to the less-descriptive category of "Premium Alcoholic Beer", before things utterly collapse into a singularity of oddness when their 'Weka' lager is billed merely as a "Premium Alcoholic Beverage" — what, is it not actually a goddamn "beer" at all, any more? Just how worried should I be that they so studiously avoid that word, all of a sudden?
This kind of barely-coherent buzzword salad drives me nuts. And makes me sad when I think that it actually probably works often / well enough that some people can convince themselves that it's worth it. To me, this is brandwank, and I detest it — particularly when it's so clumsy and contradictory as this. Dear whomever: If you're going to be an Evil Advertising Bastard, could you at least be a better writer, please?
Verbatim: Moa '5 Hop' 28/2/11 @ Malthouse, w/ Mike the rep.. I've always thought this was just oddly-named. Why emphasise the hops, unless you're going all-out pale ale? It's a very nice ESBish kinda thing, really. Rich + malty, nicely fruity hops. They're in the middle of a brand redo, and a push into Australia. Must try and see if the journalist hat fits me…
---
1: Seriously, can marketing people stop pretending that "premium" really means anything, here? The only way for it to ring true at all is to take it at its literal meaning of "more costly". So maybe this really is an "exceptionally rare" (to hijack Moa's current slogan) example of honesty in advertising.
2: The phrase "New Zealand's native Moa is the only beer to be fermented in the bottle, like French champagne" appears on their current homepage. A longer blurb on the section labelled "Discovery" also implies the same, describing the brewing process and ending with "The result is a beer unlike any other — clear, exquisite and bottle-fermented" — the first adjective is outright false, the second subjective and the third hardly unique.
3: Well, it almost means something. If you said those words to any normal / sane kind of Beer Nerd, they'd think you were talking about a pale ale made with as-fresh-as-possible hops, a "wet-hop" beer like Thornbridge 'Halcyon' perhaps — just to pick the first one I found in my Diary.