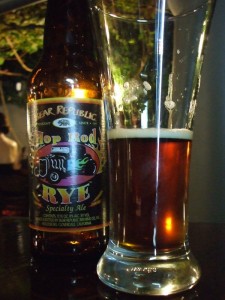 This one didn't technically violate the rule against Plural Big Beers in a night, but you do ruin your good midstength start if you then have a flagon of golden ale, and then find yourself tempted to try something Big like this. But oh well; you still do it, you just note down that you probably shouldn't have.
I wound up at Hop Garden (which is in/conveniently on my way home from town), and Scotty couldn't resist showing off his astute purchase of a swag of these, so we split one.
Rye beers are finally coming back into fashion after a rather mysterious absence; different grains make for different chemistry, unsurprisingly, and with rye you usually get a boatload of really nice texture, which was certainly the case here. The piney hoppiness was characteristically face-punching (for a pale ale from its part of the world), and the balance between the two made for a beer that managed to be simultaneously serious and fun. At least, that's how I think I remember it. And hey; I do take notes.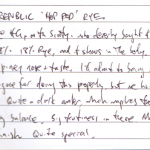 Verbatim: Bear Republic 'Hop Rod' Rye 12/2/11 @ HG, with Scotty, who cleverly bought it off HZ. 355ml 8% 18% Rye, and it shows in the body. Nicely massive piney nose + taste. I'll admit to being slightly too far-gone for doing this properly, but we had to try it. Quite a dark amber, which implies the pleasantly surprising balance. Big fruitiness in there. Monster bitter finish. Quite special.