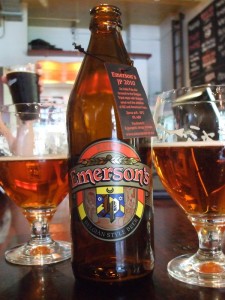 I'd managed to draw the early (3pm start) shift for New Year's Eve, and the afternoon was nice and quiet for the most part, giving me time to whip around to the other side of the bar and join my friends for a beer. Toby and I couldn't think of a better First Beer for the day than this, since it had the soon-to-be-dead year in its name, and him and I had shared an earlier vintage back in Melbourne.
The 'JP' beers are all different takes on a Belgian style of one sort of other, brewed in honour of J.P. Dufour, who apparently did much to introduce the joys of the beers from his homeland to the local brewing scene. 2010's edition was a hoppy tripel or Beligianish IPA, depending on your point of view and usual preferences — and it does the hybrid thing very well, much like I remember Green Flash's 'Le Freak' doing.
Wendy commented that it smelled "like a boy's bedroom", and I had to totally concede that point and quote her directly. The  'funkiness' you get from Belgian yeast was perhaps met by a certain 'sweatiness' that seemed to crop up in some of our hops this year. Which also leads to a nice reminder on the way you can describe a beer in very strange terms — and still like it a lot.
Verbatim: Emerson's 'JP' 2010 31/12/10 and how apt to start the end of a year with a vintage-dated thing. 500ml ÷ 2 with Toby, who shouted. 8.6% Belgian IPA / hoppy tripel. I have to quote Wendy, who said it tastes like a boy's bedroom. The mustiness is definitely [there], and there's the heat from the booze. Does the hybrid thing very well. And there was that infamous 'sweaty' hop batch this year. Again, it's odd how you can describe something so weirdly, and still like it very much. The JPs are always good, and interesting, which is half the battle. It's still nice and civilised in here, but I'm sure that'll change.