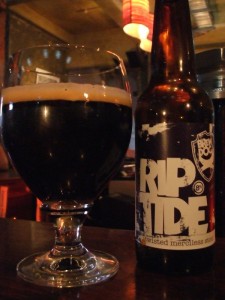 I normally try not to have too-many 'new' strong beers in a single day, but New Year's is New Year's, so what the hell? I'd been looking forward to this for a while, and was still happily perched at the bar in the window, so the randoms mostly ignored me and there was room for a slowly rotating roster of friends and workmates to join me.
I was getting concerned about the Plural Big Beers problem because this stout tasted rather fruity, to me, which isn't entirely usual. Ordinarily, if you had to guess, you'd expect a stout to be dominated by dark, roasted coffee and chocolate flavours — and they are definitely in there, they're just not being far-and-away the loudest men in the room like they normally are. I thought maybe the fruit flavours from my just-previous pale ale were confusing me, so I conducted a little impromtu tasting panel of anyone nearby — partially also to show off what a lovely beer I had and therefore what a clever shopper I was — and we all basically concurred.
Not quite as massively boozy or as loopily-different as their marvellous 'Paradox' stouts, this is still a great testament to the cleverness of the BrewDog boys by being a properly solid strong stout which is set apart from its peers with that complex and fruity sideline.
Verbatim: BrewDog 'Rip Tide' Imperial Stout 31/12/10 $10ish @ NWT 330ml 8% 10.40pm and the bar is filling up with randoms. I'm hiding @ the window with Robot, Caleb & Staff as they get their breaks. Pours utter blackness, as you'd hope / expect. Not all coffee / choc, to me; quite a bit of fruit, though that could be IPA holdovers. I'm breaking my own rules about Plural Big Beers on a Night, but it's New Year's, so wtf. Raisin-y? Blackcurrant-y? Pieta has it as Black Forest, minus the chocolate. The stouty bigness is there, but its edges are very different, which is oodles of fun. No coffee, says Robot, but it's like warm good chocolate to her. She's on Stonecutter, so her 'fruitiness' bar will be calibrated differently. Peter, who had a Stonecutter last night (but not right now) favourably compares it to such. Aren't we all rather clever?