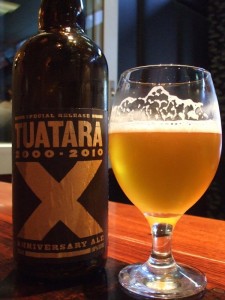 Still (mysteriously) Wellington's only local brewery, Tuatara recently arrived at their tenth birthday and celebrated (as breweries understandably tend to do) by making themselves a beer for the occasion. Essentially, they blammed 'Ardennes' up a few notches, landing it at a suitably1 anniversary-ish 10%. It debuted at Beervana and was apparently well received, and we had a few bottles in stock at work to plug the gap in between the availability of kegs.
Despite liking 'Ardennes', and also heftier–Belgian–esque beers in general, this just isn't My Thing at all, which put me in rare disagreement with some usually-similarly-minded folk. But hey, subjectivity, right? For me, it committed the basically unforgivable sin of being just kinda naff; not different enough from Ardennes, other than in the strength — and that strength just rolls all around your face with its syrupy hotness and ruins any real chance for balance, or depth, or character. It's your birthday, so you should go a bit crazy, but if your only thought for how to go crazy is to effectively pour petrol into one of your existing beers, something is amiss.
And — maybe that strength is to blame — shouldn't you also make sure all the bolts are tight on an anniversary release? These things arrived with horribly-wonky labels that made you wonder just how dark it was in the warehouse that no one noticed nor cared, and the text on those misapplied labels also shipped with an awesome typo which cited their use of heretofore-unheard-of boble hops.
Tuatara can do great things; when their beers are 'on', they are delightful and accessible local takes on iconic styles of beer — although they really need to get around to admitting to themselves (and the rest of us) that their deservedly-popular APA is now part of the family and not a "limited release" as per the label, since it's been continuously-available for some eight months. But Tuatara are also capable of alarming bits of rushed decision-making, over-stretching (with a side of corner-cutting), and evident narcolepsy at the switch. 'X', sadly, is a product of those latter temperaments — which is doubly depressing for a Birthday Beer.
Verbatim: Tuatara 'X' Anniversary Ale 2000-2010 19/11/10 10% 750ml shouted by a customer + shared. Essentially an embiggened Ardennes, it's an over-strong tripel. Similarly dry, Belgish nose, but not alarmingly fumey. Warming in the face, though. Honey-ish, oily texture. Actually oddly 'normal', but with that hot, boozy finish.
---
1: I've commented before on the "borderline numerology" trend among brewers, particularly in regard their own anniversaries and such. I remember it initially striking me as evidencing a lack of creativity, but I quickly decided I liked the obsessiveness and nerdery of it.