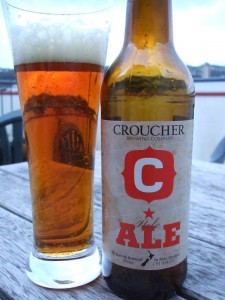 Saturday brought an end to my Hamilton Expedition, but did compensate me with a lovely drive home down State Highway 4 — I decided I'd done SH1 too often, so thought I'd go around the other side of the Lake. And when I got home, I had a house full of people getting ready for a day-early dose of Hallowe'en craziness.
Peter and I were relatively-lazy with our Hallowe'ening (though him much moreso than me), so we had a bit of time to kill and therefore a beer. We're both big fans of Croucher's Pale and I found the new bigger 500ml bottles up the road at Regional. They're now also brewing at Steam in Auckland, which gives them some extra capacity with which to meet their (deservedly) increasing demand and have a crack at some export markets. These bottles are labelled up ready for the U.S., and I was chuffed to see that Paul's original (and accurate) tasting note of "delicious burps" has been left intact.
And the beer is just as good as it ever was. Possibly a tad better, if anything. If I had to pin down a difference, I think the fresh, fruity (Cascadey) hops are even more present in the aroma than they were last time I had one. It's a delicious beer, and was just what I needed.
It deserves to do well overseas, and I think it (and the Pilsner) are a good bet. Exporting to places like the U.S. from little old New Zealand is a tricky proposition. Tuatara took a crack at it a little while ago with their IPA, which I thought was vaguely mad — would the Americans really go for such a relatively-sedate take on the style, given their hop-mad craft beer sensibilities? And Tuatara had their U.S.-labeled beers around a time when they were already stretched to capacity and seemed to be sacrificing conditioning time to meet local demand. Don't get me wrong, I like their IPA, but it just didn't seem like the right beer or the right time. Croucher's more-individual Pale and Pils could well be a better fit.
Verbatim: Croucher Pale Ale 30/10/10 500ml ÷ 2 w/ Peter $6 from Regional 5% At my house after a long drive back down SH4, and while the girls are upstairs getting all Hallowe'en'ed. Apparently production has shifted to Steam, possibly after Kaimai re-took their kit. They're bottling for the US market now, too. And more power to them. The awesome original "delicious burps!" tasting note has survived, and the beer hasn't changed much — if at all, for the better. Lush, fruity, yum. Bigger fresh-Cascadey nose, perhaps.