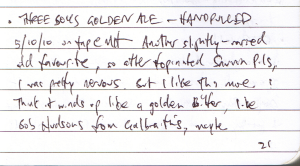 Three Boys Golden is an absolute favourite of mine. So after the heartbreak that was the Hopinated version of  Twisted Hop's 'Sauvin' Pils — another beer whose deliciousness is closely-tied to its simplicity — I was a little nervous to try this. Especially after Martin had some and found it a little sweaty.
But this modification wasn't as extreme as biffing in a whole buttload of some superfluous flavour, this was a difference in delivery method — upping the temperature a tad, and losing almost all of the bubbles. The effect wasn't as jarring, and I thought it moved the beer into the sort of very-pale English-style bitter territory occupied by Galbraith's charming 'Bob Hudson's'.
Verbatim: Three Boys Golden Ale – Handpulled 5/10/10 on tap @ MH Another slightly-varied old favourite, so after Hopinated Sauvin Pils, I was pretty nervous. But I like this more. I think it winds up like a golden Bitter, like Bob Hudsons from Galbraith's, maybe.