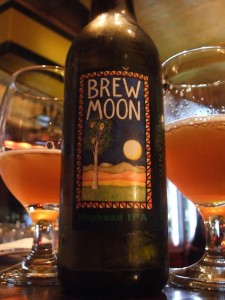 I'm still kicking myself that me and my friends didn't know about the Brew Moon Cafe when we were on our South Island roadtrip a few years ago. They're in the charming-enough little town of Amberly, in North Canterbury, and we stopped there (we stop a lot, on our roadtrips) to see the statue of Double-VC soldier Charles Upham, who once farmed nearby. Now that I do know about this place and their beers, I really must go back.
'Hophead' is a lovely beer; it's not a crazypants kind of over-done / attention-grabbing IPA, it's just a solid bottle of yum. And I can't help but notice this Diary entry's place in the timing of this blogthing; I'd just reached frustration-point with the fact I wasn't carrying Diary I with me and so couldn't remember which note-worthy beers already had been appropriately noted. So there's a weird sort of particular satisfaction in putting this note up, I must say.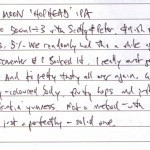 Verbatim: Brew Moon 'Hophead' IPA 16/9/10 500ml÷3 with Scotty & Peter. $9ish from Rumbles, 5%. We randomly had this a while ago, but I can't remember if I Booked it, I really must get these online. And it's pretty tasty all over again. Good orangey-coloured body, fruity hops and just general good-drinkin' yumness. Not a mucked-with loopy IPA; just a perfectly-solid one.