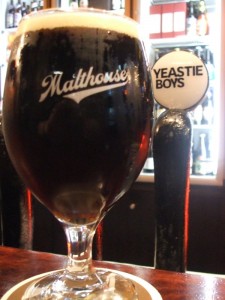 And so begins Diary II. I'm kinda surprised I lasted a week since the birthday-closing of Diary I. But this was a hell of a way to kick things off; with a big, mad, not-concerned-with-style kinda thing.
The Yeastie Boys are no one-trick ponies; they can make crazy hoppy pale ales, delicious easy milds, and things like this that escape classification and just are what they are. Somewhat reminiscent of Emerson's too-scarce 'Taieri George', this is a dark, smooth beer with oodles of chocolate and spice flavours, which is almost worryingly drinkable for its rather-high strength.
They make a 'His Majesty', as well, but this one is dedicated to their wives (and the largely-unsung women of the craft-brewing world in general) and apparently made to their tastes — which also makes this another useful thing to help dynamite silly notions of what is or isn't a "girly beer".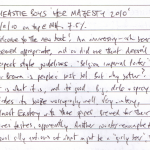 Verbatim: Yeastie Boys 'Her Majesty 2010' 6/9/10 on tap @MH 7.5%. Welcome to the new book! An anniversary-ish beer seemed appropriate, and so did one that doesn't respect style guidelines. "Belgian Imperial Porter" or Brown is people's best bet. But why bother? It is what it is, and it's good. Big, dark + spicy. Hides its booze worryingly well. Very wintery, almost Eastery with all those spices. Brewed for their wive's tastes, apparently. Another counter-example to usual silly notions of what might be a "girly beer", then.