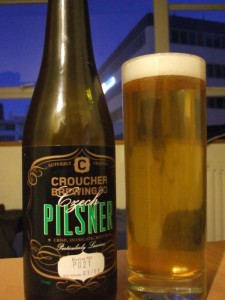 We'd been lucky enough to have this and the Pale (which is further back in the Diaries) on tap at work once, so I already knew I was a fan of this, and it seemed like the perfect consolatory beer after a bit of a Day. It's lovely, really. (They also do a 'Hef' wheat beer, which is decent, and good for evangelism; a Gateway wheat, really — I prefer mine a bit more full-on.) It's got a blunter, more bitter hoppy nose to it than the ubiquitous Tuatara Pilsner, but actually opens into a lighter, fruitier flavour. Lusciously smooth, where other pilses tend crisp.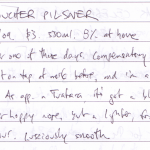 Verbatim: Croucher Pilsner. 13/1/09 $3 330ml 5% at home. Another one of those days. Compensatory beer. Had it on tap at work before, and I'm a big fan. As opp. a Tuatara, it's got a blunter, bitterer hoppy nose, but a lighter, fruitier flavour. Lusciously smooth.
Afterthoughts, November 2010: I lived at this place on Willis Street just briefly — between my Terrace apartment and my house on Mount Victoria — and while it was nice in its own way, it was very difficult to take good beer photography in. Just something weird about the lighting. Though that strange Freemasonry building in the background does come out looking unfairly good.