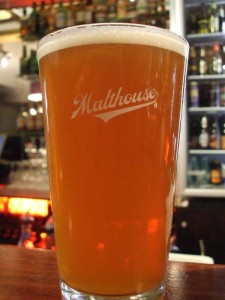 A reward-to-self for knocking my Christmas shopping off in one go (and with a whole day to spare). It's awesome. A big apricotty, hop-filled nose to start off, and a similarly big, nicely bitter and full-on taste, faultlessly done. It also very much suits being on the hand-pulls, being flatter and that little bit warmer. It delivers in areas where things like Pink Elephant Golden Tusk and Epic Pale Ale prove to be only all talk, much to my recent annoyance. This makes for seriously-good medicine and reassurance, after those.
Verbatim: Twisted Hop IPA. 23/12/08 $8 @ Malty 6.4%. Shopping done. And this is on handpull. Awesome. Apricotty hop-filled nose, and big, nicely bitter feel. What Golden Tusk should've been. Goes very nicely flat + slightly warmer. Big full-on taste, but faultlessly done. Nice and rounded, unlike an Epic or summat.
Afterthoughts, November 2010: I should admit that two days later, on Christmas Day, I also had an astonishing hangover brought on by overindulgence in this stuff. I don't mean to blame it, or anything / anyone other than myself, I'm just saying that it was that delicious; you kept going when you knew you shouldn't.