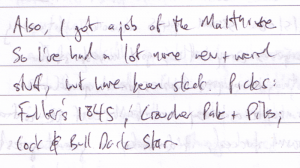 Verbatim: Also, I got a job at the Malthouse. So I've had a lot more new + weird stuff, but have been slack. Picks: Fuller's 1845; Croucher Pale + Pils; Cock & Bull Dark Star
Afterthoughts, October 2010: From the timing of the guest beers, this appears to be an entry from just after Beervana 2008, which fits with the entries around it. And just goes to show how ingrained the slackness can be, since I started working at the pub a few months before that. But at least, as the previous few photos attest, I was at least definitely trying new things, even if I wasn't taking my Diary with me.
The only thing that really strikes me is how little of a Beer Nerd I was when I got that job. I mean, I knew my stuff, to be sure. I knew enough about a whole lot of beers to gasbag about them and to make recommendations based on a few prompts from a customer, but I clearly didn't know a whole lot about the whys and wherefores. But then, there is always more to learn, isn't there? And you're probably not doing things right unless the ignorance of your two-years-ago self is faintly embarrassing.