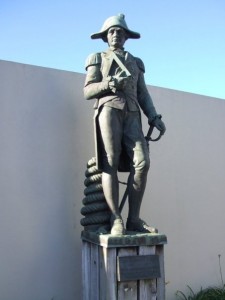 Verbatim: James Cook Spruce Beer. 500ml, $5, 5%, 18/5/07. Made by the increasingly-appreciated Wigram. Good solid beer, flavoured with spruce and manuka. Tried on suspicion that it's what 'Te Kawa' should be. And it is. This is very nice, unique, and interesting. Still accessible.
Afterthoughts, on the occasion of taking that photo, September 2009: Lion Breweries put up a statue to Captain Cook outside their Megaplant in Auckland. Because, as you may not know, he brewed New Zealand's first beer. That does give me a bit of Shared Last Name-y Glow, so I snapped a photo while I was up in town for a bit of an after-birthday roadtrip.
If you're curious, Wigram Brewery make a 'James Cook Spruce Beer' which is a rough approximation. New to the country, Cook mistook Rimu for Spruce, and Manuka for Tea Tree, and had a crack at an old (pre-hops) method of English brewing.
The result is, well, woody. It's like licking an absolutely stunning piece of antique furniture. If you're going to be licking cabinetry, then this is the way to do it, the best possible of that particular set of peculiar circumstances — but however good it might be, you're still licking cabinetry.
Still, it's definitely one to have for Uniqueness Points.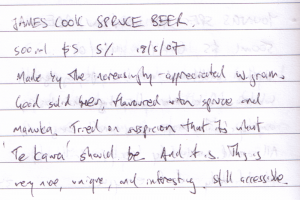 Afterthoughts, October 2010: Odd that I didn't find this, well, more odd. Because it really rather is. Still, I do like unhopped beers. Certainly much more than most Beer Nerds do. The other beer — actually spelled "TaaKawa" — is another unhopped beer made with native plants instead, in that case Kawakawa, but I just found it too… normal. Not special and different enough, maybe out of commercial caution, but still. Oh, and the mention of it — in the absence of an actual entry — also suggests that I was still pretty lousy at remembering to take notes.