Trying to re-discover this one on RateBeer.com took me through two placeholders that said "this name is just an alias for…", sending me somewhere else. Beer marketing is a funny thing, and brews often wind up existing under different names in different markets or at different times, or both.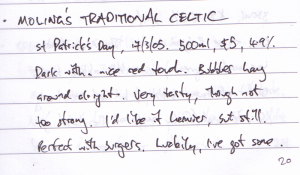 Verbatim: Moling's Traditional Celtic. St. Patrick's Day, 17/3/05. 500ml. $5, 4.9%. Dark with a nice red touch. Bubbles hang around alright. Very tasty, though not too strong. I'd like it heavier, but still. Perfect with burgers. Luckily, I've got some.
Afterthoughts, October 2010: I still do these day-appropriate tastings of new things, whenever I can; something Irish on Paddy's Day, something Australian on January 26, that sort of thing. Any excuse, right? But it's nice to see I started early.