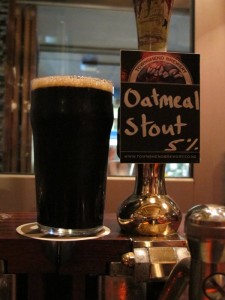 I bloody loves Oatmeal Stout, I do — especially in the winter; it's basically the off-season equivalent of my recurring summertime Golden Ale obsession. There is just something absurdly comforting about a good one, and I've been blessed by more than a few fine examples, lately, ranging from sessionable ones like this or my recent Little Creatures 'Single Batch' Oatmeal Stout, to crazy-big things like Liberty's 'Never Go Back' (coming up in a few entries' time, spoiler alert).
Delightfully, also, just as I was scanning this batch of Diary pages and uploading a fresh chunk of photos, my house was filled with the ridiculously-promising aroma of an oatmeal stout brewing. My flatmate has one on the go — it's currently in the cupboard under the stairs, happily burbling away and fermenting, and is yet another reminder that I really should get back to brewing, myself. (Although if I start taking photos of and writing notes about beers I've made myself, everything might collapse into a singularity of weirdness — however necessary the note-taking will be, given my rubbish memory.)
A sessionable-or-nearly-so handpulled stout is a brilliant thing on a cold evening, and this one is the closest we've ever come to placating our one regular who has never quite forgiven us for no longer having Invercargill's 'Pitch Black' as a permanent fixture (or even as an occasional guest; it's been ages since we've had it on tap, mysteriously). I'm entirely unsure whether we're supposed to go with the -nerd or -nard pronunciation, but that might be down to my general dislike of dogs and non-membership of any sort of tradition that gives a damn about "saints" — come to that, I've no real clue whether it's named after the dogs, one of the eponymous saints, or any of the other various candidates.
Martin Townshend himself was at work not long ago, in town for our 'West Coast I.P.A. Challenge'. He seemed a properly lovely chap, and that moment where you get to wander up to a brewer, shake their hand, and say "you make great beer" is always a great one. I do love that beer remains like that; you can still do that without seeming strange or fanboyish, and you'd be hard-pressed to find a brewer who'd give you a "and who the fuck are you?" look in return — they all seem genuinely chuffed to know people like what they make.
And Townshend really can be relied upon to make lovely and likeable beer, and their old-school authenticity appeals to a good number of our English / formerly-English / just-a-lot-of-time-in-England regulars. This stout was no exception; dry, fresh and light (with a cleanness that my weird-seeming "licking the inside of a used instant coffee jar" note attempted to convey), but still possessed of a very satisfying presence and bitterness. It didn't last long on our taps, victim of its own success and all, but hopefully it'll be back soon.
Verbatim: Townshend 'St. Bernard's' Oatmeal Stout 19/5/11 pint on tap @ MH. From Nigel, with Kevin et. al.. Second only to Pitch Black, we say, as a sessionable black beer. Dry, powdery — like licking the inside of a used instant coffee jar. Not at all stodgy (which isn't to imply that stodgy is always bad, of course); surprisingly light but still rich. Satisfyingly bitter.